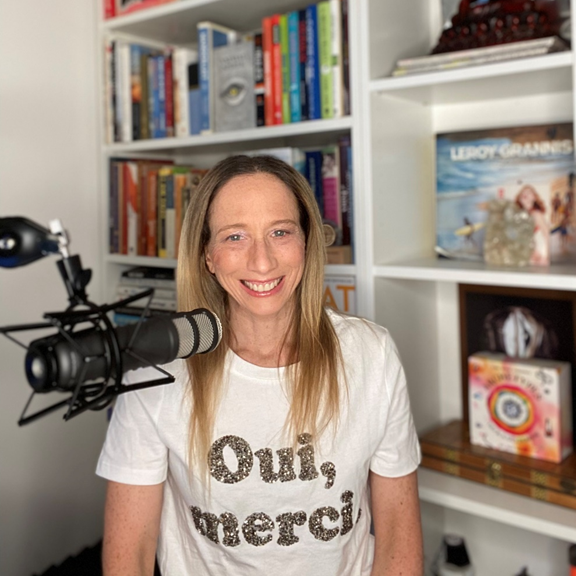 Happy New Year! Welcome to Volume One of the Marni on the Move Annual Fitness + Wellness Trends for a healthy new year. I go through my top sixteen ideas, rituals and routines you should have on your radar and be implementing for 2021!
EPISODES I MENTION
03 Scott Linde, Founder, SunPotion
67 Dr. Frank Lipman. Eleven Eleven Wellness + The Well
71 Matt Wilpers, Senior Instructor, Peloton
75 Noam Tamir Founder, TS Fitness
79 Giorgos Tsetis and Sophia Kogan Co-Founders Nutrafol Founders
80 David A. Sinclair, PhD, Globally Renowned Microbiologist & Geneticist, Author NYT Bestseller Lifespan
87 Dr. Gil Blander, Founder InsideTracker
91 Shannon Vaughn, Founder Pursoma
92 Andrew Messick, CEO, The  IRONMAN™ Group
93 Shane Facteau, COO, The IRONMAN™ Group
95 Jonathan Toker, Founder, Saltstick™
96 Chavie Rosen, Yoga Teacher
100 Bart Yasso, World Famous Running Coach and Athlete
102 David A. Sinclair, PhD, Globally Renowned Microbiologist & Geneticist, Author NYT Bestseller Lifespan
104 Earl Walton, IRONMAN™
108 Ashley Reaver, RS, CSSD, and Lead Nutrition Scientist at InsideTracker
112 Kevin Rutherford, CEO of NUUN Hydration
113 Matt Fitzgerald, Globally Renowned Endurance Sports Author and Coach
114 Colleen M Brough, PT, DPT, MS, Founder + Director of Columbia Run Lab
118 Colleen Quigley, Professional Runner, Bowerman Track Club
119 Dr. Linda Lancaster, Founder of Light Harmonics & Author of NYT Best Selling Book Harmonic Healing
123 Joel Friel, Co-Founder Training Peaks, World Renowned Endurance Coach and Author
124 Mohammed Iqbal, CEO SweatWorks
127 Maryl Hoskings, Founder, Joy Blended Healing
128 Melinda DeSeta, LMHC
129 Bethany Lyons, Lyons Den Yoga
130 Nia Akins, Professional Runner BBTC
132 Spencer Brown, Professional Runner BBTC
133 Tara Stiles, Strala Yoga
134 Dr. Will Li, New York Times Best Selling Author, Eat To Beat Disease
135 Jessica Rice, Co-Founder, Mad Ritual™
136 Danny Mackey, Brooks Running + Brooks Beasts Track Club
137 Ashley Reaver, RS, CSSD, and Lead Nutrition Scientist at InsideTracker
CONNECT
Marni On The Move Instagram, Facebook, or LinkedIn
Marni Salup on Instagram
**NEW** YouTube Channel 
OFFERS
Take control of your health and wellness journey with InsideTracker, the ultra-personalized nutrition platform that analyzes your blood, DNA, and lifestyle to help you optimize your body from the inside out. Transform your body's data into meaningful insights and a customized action plan of the science-backed recommendations you
Mad Ritual CBD Balm has changed our sports and fitness recovery game in a big way!  Get ready to recover like a rebel with these awesome high quality CBD infused products!  Shop with our code marnionthemove for 15% off your purchase.
TrainingPeaks is offering Marni on the Move listeners 30 days of free Premium. Use our code: Marnionthemove on their website, www.trainingpeaks.com.
Head over to our SHOP page for additional offers from Marni on the Move partners, sponsors, and guests including Navitas Organics, Sun Potion, Amrita Health Foods and more.
SUBSCRIBE
Sign up for our weekly newsletter, The Download for Marni on the Move updates, exclusive offers, invites to events, and exciting news! Check out past editions: January 2020, November 2019. August 2019  December 2018 November 2018
SHARE
Leave us a review on Apple. It's easy, scroll through the episode list on your podcast app, click on five stars, click on leave a review, and share what you love about the conversations you're listening to.
Tell your friends to what you love on social. Screenshot or share directly from our stories the episode you're listening to, tag us and the guests, and use our new Marni on the Move Giphy!