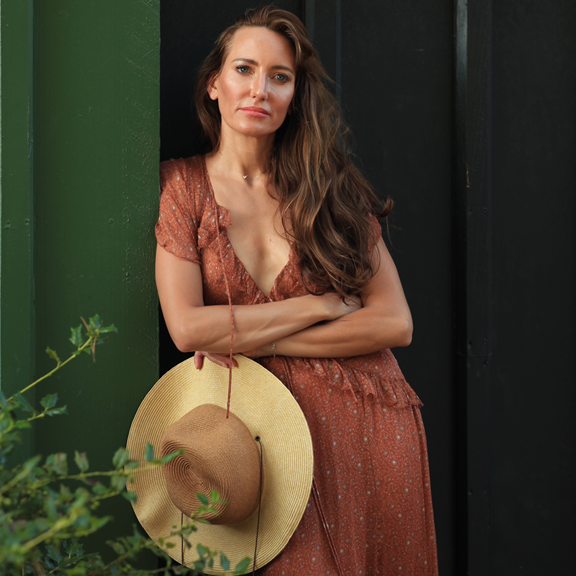 Wellness entrepreneur, Shannon Vaughn is the CEO + Founder of Pursoma. For Shannon, it all began when faced with two life changing health crises and a decision to pursue a path of alternative holistic healing and modalities. Pursoma is a wellness company offering a variety of bath and body products including body polishes, bath treatments, essential oils, and detox teas. Pursoma is all about Wellness for the Modern World™ offering a bevy of treatments to help you relax, detox and refresh, soothing the body from the inside out.  Treatments include After The Class (a collaboration with Taryn Toomey), Digital Detox, Seaweed Body Polish to Pursoleil Body Oil , Sweet Sleep Banana Chamomile Tea and many more.
All of the ingredients are eco-cert, organic, hand-harvested, locally grown at the Pursoma farm, and sustainable farms in France.  They are all founder sourced, personally by Shannon, to get her official stamp of approval, also known as FSI (Founder Sourced Ingredients).
Shannon and I sync up about the two life changing health crises she faced in 2011 and the alternative holistic healing and modalities that inspired her journey into wellness and the launch of Pursoma. We talk about how she has grown the brand from its original launch at one store and eight SKU's at Shen in Brooklyn to distribution in 200 luxury retail boutiques, 500 Ulta Beauty locations and her expansion into boutiques in Korea, The GCC, and the EU this year. We talk about Pursoma's  collaboration with The Class and Taryn Toomey, After The Class, and the experience they had sourcing crystals with the Rock Hounds in the Pioneer Mountains in Idaho. And of course Shannon shares the fitness and wellness routines that fuel her for success.
CONNECT
@Pursoma on Instagram or Facebook
@MarniOnTheMove Instagram, Facebook, or LinkedIn
Sign up for our newsletter, The Download for Marni on the Move updates, exclusive offers, invites to events, and exciting news!
Pursoma is offering Marni on the Move listeners a complimentary detox tea with the purchase of a bath treatment. Head over to www.pursomalife.com and use the code "Calming Tea" and enjoy.
Shop our Sponsor Offers!
Mad Ritual CBD Balm has changed my sports and fitness recovery game in a big way!  Get ready to recover like a rebel with these awesome high quality CBD infused products! Their CBD Balm is off the charts amazing! And I'm not the only one that thinks so, Mad Ritual has 100+ five star reviews. They also offer a terrific CBD infused total recovery supplements. Not just for athletes, the products are formulated to ease all of the aches and pains that come along with being an active human.  So, if you're sore from life, Mad Ritual gets it. Founded by women, athletes, and active entrepreneurs, they are committed to helping active folks bring more balance to their lives. Shop with our code marnionthemove for 15% off your purchase.