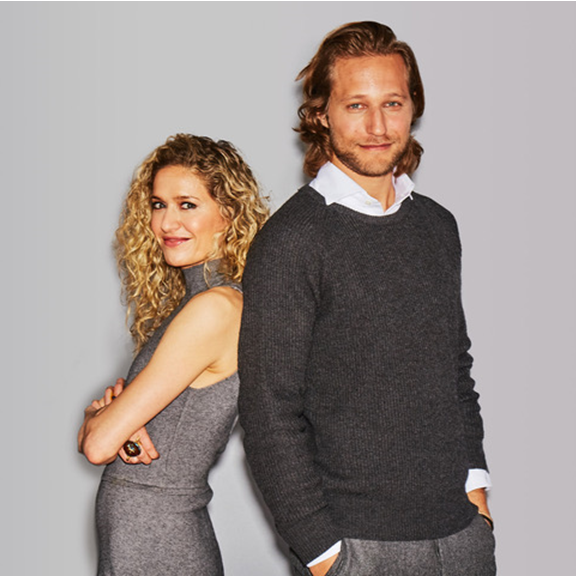 Giorgos Tsetis, C.E and Sophia Kogan, M.D.are two of the three Co-founders of the game changing hair health and wellness company, Nutrafol.Their revolutionary line of nutraceuticals, 100% drug-free, physician tested hair care products focus on hair growth from the inside out for Women and Men. You are going to love this inspiring and eye opening conversation.  We learned so much from speaking with them both, well beyond their brand and ingredients, but about community, passion, and building an authentic brand with heart.  When Georgos Tsetis, C.E , Co-founder and CEO, Sophia Kogan, M.D, Co-founder and Chief Medical Officer teamed up with third Co-founder and Chief Innovation and Product Officer, Roland Peralta, the Nutrafol journey began and continues to grow.
Sophia and Giorgos share where it all began and the fun story of how they met, their personal hair loss experiences, the inspiration behind Nutrafol, and the fitness and wellness routines that fuel them for success.
You will learn how chronic stress, gut health, inflammation, and hormones have so much to do with hair loss and how you can turn it around using Nutrafol. With these science backed products you can increase hair growth, texture, strength and shine while adding to your overall health with blend of botanicals and amino acids designed to provide bio-available nutrient support for healthy hair production. Nutrafol takes an integrative approach to hair wellness, pioneered in nutraceutical science with natural formulations that address various hormonal, environmental, and hereditary causes that compromise hair health. All of which are supported by clinical studies and science.
Since its inception in 2016, Nutrafol has become widely recognized as a next-generation hair wellness product in the U.S. Nutrafol has been adopted by more than 1,300 physicians, clinics and stylists across the country, grown revenues by 3x year-over-year, and received numerous prestigious accolades, including Allure's "Best of Beauty Breakthrough" award in 2018.
Nutrafol is offering Marni on the Move listeners $10 off your first month of subscription using the code MARNI10 upon signup. Head over to thier webste www.nutrafol.com.
I hope you enjoy. If you like what you hear, leave us a review on Apple.
CONNECT
@Nutrafol on Instagram and Facebook
@MarniOnTheMove Instagram, Facebook, or LinkedIn
Shop our Offers, Deals, and Favorite Products + Brands
Sign up for our Newsletter, The Download for Marni on the Move updates, exclusive offers, invites to events, and exciting news!