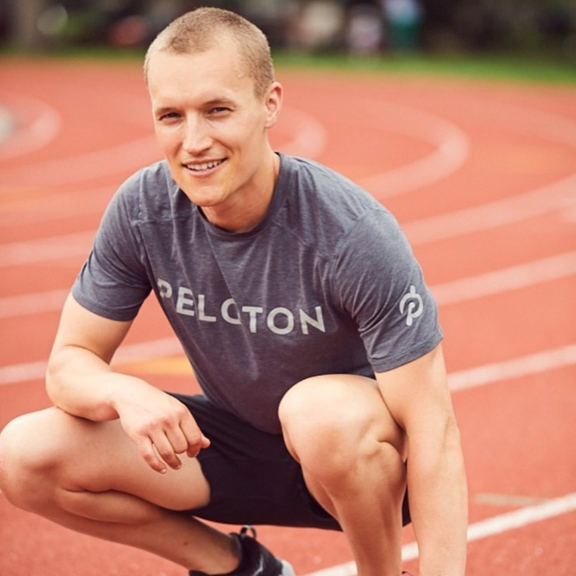 Matt Wilpers is a globally renowned group fitness instructor and running coach thanks to his wildly popular fitness programs and classes on Peloton and his HBO' run coaching gig with Lena Dunham for her popular TV show Girls, while coaching at Mile High Run Club.
For Matt, Peloton and his private coaching are not just his job. Fitness and sports have always been a way of life!  He was born into skiing. He grew up on the ski slopes, thanks to his mother who worked as a Ski Patroller throughout his childhood.  Flash forward  to his college years, Matt went on to be a NCAA Division 1 Cross Country + Track Athlete at Georgia State University and continued running recreationally after college when he moved to NYC to pursue a career in accounting.  But that all changed for Matt after a running injury forced him to switch gears…His coaching career really began when he signed up for his first spin class. It's also when his bike and triathlon racing began.
Today, it is Matt's single focus to use his passion and love of sports to inspire and empower people through being active.  He is a Senior Instructor at Peloton and has a private run coaching business to fuel runners for success.
Peloton is a global interactive fitness platform that brings the energy and benefits of studio-style
workouts to the convenience and comfort of home. With thousands of live and on-demand classes, taught by a roster of elite instructors, Peloton delivers real-time motivation and curated playlists from the world's best artists. The brand's immersive content is accessible through the Peloton Bike, the Peloton Tread, and Peloton Digital, which provide a full slate of fitness offerings, wherever you are.
Matt has been coaching runners and cyclists of all ability levels since June of 2008. He believes that a technical and hands-on coaching approach in combination with a fun and positive training atmosphere brings out the best performances in his athletes.
We talk about Matts love of sports and where athleticism began for him, his passion for coaching and helping others achieve their goals, his training philosophy, turning his love and passion into his career, his amazing classes and programs at Peloton, and of course we do a deep dive into Power Zone Training, FTP, TSS and more.
CONNECT ON SOCIAL
Matt Wilpers on Instagram, Facebook, Twitter
Peloton on Instagram, Facebook, Twitter
@MarniOnTheMove Instagram, Facebook, or LinkedIn
Shop our Offers, Deals, and Favorite Products + Brands
Sign up for our Newsletter, The Download for Marni on the Move updates, exclusive offers, invites to events, and exciting news!