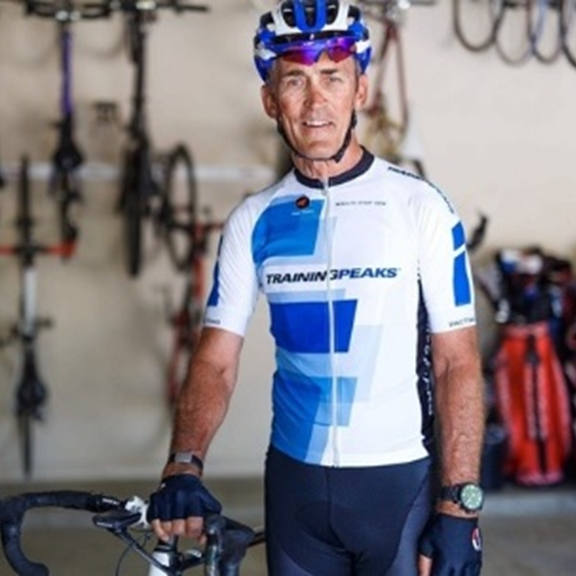 Joe Friel is the Co-Founder of TrainingPeaks, world renowned author, and top endurance sports coach. He a life-long athlete with over four decades of coaching amateur and professional athletes in a range of endurance sports.  In 1999, he took his coaching to the next level and digitized it, thanks to his son, Dirk Friel and Dirk's friend, Gear Fisher.  If you haven't already heard, Dirk was recently on the Marni on the Move podcast, release July 22, 2020. It's a deep dive into TrainingPeaks, all the features, and of course, Dirks Pro Cycling career.
I first discovered Joe back in 2011, when I started training for triathlons, I bought his world famous book, the Triathlon Training Bible,  and it truly was my triathlon training bible.   This was his second of over 14 books and his new book, Ride Inside, is October 2020. You can pre-order it on VeloPress. Perfect timing as many of us have been riding inside these past few months on Zwift, Peloton, and Rouvey.
Joe Friel is one of the most trusted endurance sports coach in the world. His books have helped cyclists, triathletes, masters athletes, novices, and pros reach their training and racing goals. His Training Bible books for road cyclists, mountain bikers, and triathletes are used by several national sports federations to train their coaches A few of his bestselling titles include Fast After 50, Power Meter Handbook, Going Long and so many more.
On this episode of Marni on the Move I sync up with Joe about his new book,Ride Inside,  and discover several really great training tips for riding indoors. Of course I get the inside scoop on where training, coaching and training peaks began, Joe shares a few of his core training principles. We talk about the coaching and virtual workshops he has been offering to triathlon clubs during COVID.  We also talk about his favorite Olympic distance race series, USTS, the importance of rest, recovery and easy training and a few secrets for success to training and racing as we age!
CONNECT
Joe Friel on Twitter
Marni On The Move Instagram, Facebook, or LinkedIn
Marni Salup on Instagram
OFFERS
TrainingPeaks is offering Marni on the Move listeners 30 days of free Premium. Use our code: Marnionthemove on their website, www.trainingpeaks.com.
Mad Ritual CBD Balm has changed our sports and fitness recovery game in a big way!  Get ready to recover like a rebel with these awesome high quality CBD infused products!  Shop with our code marnionthemove for 15% off your purchase.
SHOP
Head over to our SHOP page for additional offers from Marni on the Move partners, sponsors, and guests including Navitas Organics,Sun Potion, Amrita Health Foods and more.
Buy Ride Inside and other books by Joe Friel
SUBSCRIBE
Sign up for our monthly newsletter, The Download for Marni on the Move updates, exclusive offers, invites to events, and exciting news! Check out past editions: January 2020, November 2019. August 2019  December 2018 November 2018
SHARE
Leave us a review on Apple. It's easy, scroll through the episode list on your podcast app, click on five stars, click on leave a review, and share what you love about the conversations you're listening to.
Tell your friends to what you love on social. Screenshot or share directly from our stories the episode you're listening to, tag us and the guests, and use our new Marni on the Move GIF in your Instagram stories.
#DOWHATMOVESYOU #GETMOVING #MARNIONTHEMOVE