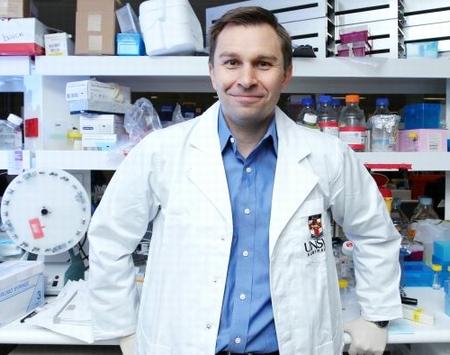 David Sinclair, Ph.D., A.O., is a globally renowned biologist and leading world authority on genetics and longevity. If you haven't already read his incredible eye opening New York Times Best Selling book Lifespan, you are going to be ordering it for sure after this conversation. His revolutionary theory and idea's on aging and why we don't have to, which he presents in his Information Theory of Aging and writes about in the book, is based upon his research and studies over the past twenty five years.  It is truly groundbreaking.  This book is going to change your life, the way you think about aging, and your overall approach to health and the future of your healthcare.
David and Marni caught up at Harvard Medical School where he is a Professor of Genetics and Co-Founding Director of the Paul F. Glenn Center for the Biological Mechanisms of Aging. On today's episode David and Marni talk about the inspiration behind David's quest and path into science, genetics, epigenetics, and longevity, the hallmarks of aging, reversing the aging process and turning back your biological clock, activating  your vitality genes and pathways, and easy to implement ways you can do this through intermittent fasting, exercise, and cold exposure and more.
You will discover the science and emerging technology behind his Information Theory of Aging, Come to understand boosting Mitochondria, increasing NAD levels, and activating Sirtuin's, learn how to Live healthier and stay younger thanks to his roadmap for taking charge of your health and destiny. David  talks about his theory that aging is a disease and by reversing its effects, you can possibly prevent such as age related diabetes, heart disease, Altheimers, infertility and more.
David Sinclair's obtained his Ph.D. in Molecular Genetics at the University of New South Wales, Sydney in 1995. He is also the co-founder of several biotechnology companies and is on the boards of several others.  co-founder and co-chief editor of the journal Aging. He is an inventor on 35 patents and has received more than 25 awards and honors including being one of Time Magazine's Top 100 most influential people in the world (in 2014) and Top 50 People in Healthcare (2018).
We hope you enjoy. If you like what you here, leave us a review on Apple.
Connect
@Lifespan on Instagram, Twitter and Facebook
@MarniOnTheMove Instagram, Facebook, or LinkedIn
Shop our Offers, Deals, and Favorite Products + Brands ans from our new series Long Slow Distance all about mind altering endurance training and the prodicusts I use that fuel me for sucess from On, Nuuns Hydration,
Sign up for our Newsletter, The Download for Marni on the Move updates, exclusive offers, invites to events, and exciting news!