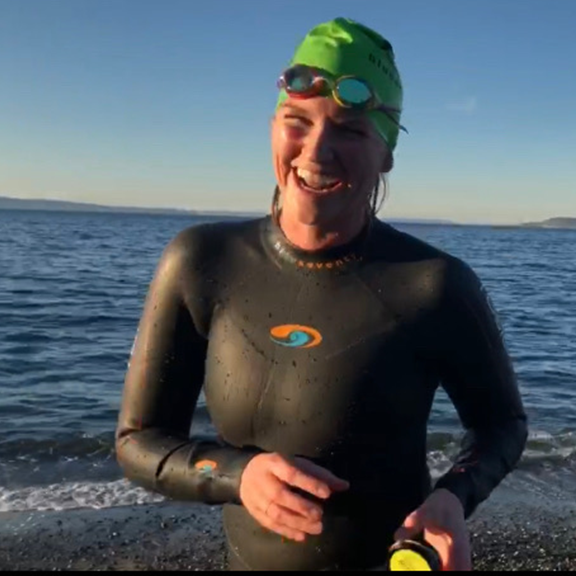 Jessica Rice is the Co-Founder of Mad Ritual™, my favorite CBD Balm and CBD Bath Bomb company that has been a game-changer for my training and sore muscle recovery for the past year. It's not just for athletes, it's for everyone.  Mad Ritual™ is a women owned and operated company headquartered in the Pacific Northwest. Jessica and Co-Founder Amy Bragg launched the company in 2018, with the brands now cult-favorite balm, which has become a must-have amongst anyone sore from life. Made from five simple high quality ingredients, these topicals are vegan and organic!  Since its inception, Mad Ritual has expanded into over 100 locations in 26 states and have over 100 five star reviews on our website.
On this episode of Marni on The Move, Jessica and I are talking about where the idea for Mad Ritual™ began, the company's growth and expansion along the way, her lifelong love of swimming, her journey into cold water swimming and The Wim Hof Method, how Meditation has changed her life, our mutual love of Yoga and wellness, and of course, her latest adventure, her new baby, Owen. Jessica shares what it was like giving birth, at home, during COVID times and how her athletic and yogi mindset have empowered her for success in all aspects of her life!
CONNECT
Mad Ritual on Instagram, Facebook and YouTube
Marni On The Move Instagram, Facebook, or LinkedIn
Marni Salup on Instagram
OFFERS
Take control of your health and wellness journey with InsideTracker, the ultra-personalized nutrition platform that analyzes your blood, DNA, and lifestyle to help you optimize your body from the inside out. Transform your body's data into meaningful insights and a customized action plan of the science-backed recommendations you
Mad Ritual CBD Balm has changed our sports and fitness recovery game in a big way!  Get ready to recover like a rebel with these awesome high quality CBD infused products!  Shop with our code marnionthemove for 15% off your purchase.
TrainingPeaks is offering Marni on the Move listeners 30 days of free Premium. Use our code: Marnionthemove on their website, www.trainingpeaks.com.
Head over to our SHOP page for additional offers from Marni on the Move partners, sponsors, and guests including Navitas Organics, Sun Potion, Amrita Health Foods and more.
SUBSCRIBE
Sign up for our weekly newsletter, The Download for Marni on the Move updates, exclusive offers, invites to events, and exciting news! Check out past editions: January 2020, November 2019. August 2019  December 2018 November 2018
SHARE
Leave us a review on Apple. It's easy, scroll through the episode list on your podcast app, click on five stars, click on leave a review, and share what you love about the conversations you're listening to.
Tell your friends to what you love on social. Screenshot or share directly from our stories the episode you're listening to, tag us and the guests, and use our new Marni on the Move Giphy!