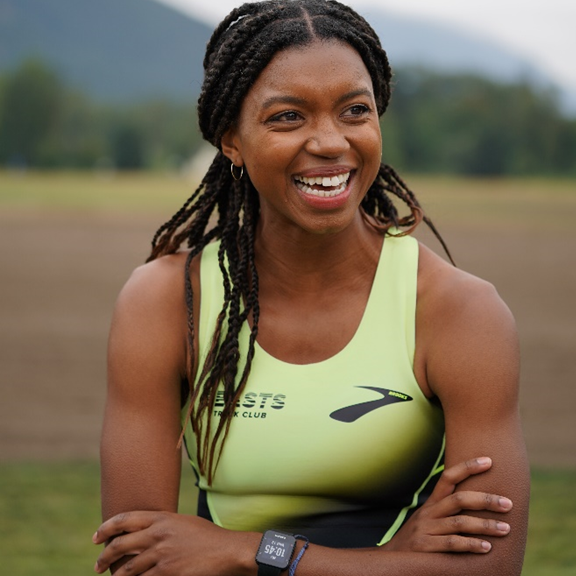 Nia Akins is a 2020 University of Pennsylvania Nursing School Graduate, an NCAA Runner with a 2:01:71 PR for the 800 Meter distance, and now, a professional runner and for Brooks Running on track for the Olympics with the  Brooks Beast Team.
We sync up about what it was like being in her senior year of college during COVID Times- as a student and an NCAA athlete, virtual graduation, the races and Olympics she was looking forward to and how she has kept moving, and training on her own before joining the Brooks Beasts. Nia she shares the difference between college and pro running, how she handled tough career choices, and she offers a glimpse into a personal essay she wrote this summer for Runners World, which I highly recommend you read.   Nia also talks about how much she loves her teammates and is so happy to be training with this terrific group of athletes!
CONNECT
Nia Akins on  Instagram
Brooks Running on Instagram 
Marni On The Move Instagram, Facebook, or LinkedIn
Marni Salup on Instagram
OFFERS
Mad Ritual CBD Balm has changed our sports and fitness recovery game in a big way!  Get ready to recover like a rebel with these awesome high quality CBD infused products!  Shop with our code marnionthemove for 15% off your purchase.
TrainingPeaks is offering Marni on the Move listeners 30 days of free Premium. Use our code: Marnionthemove on their website, www.trainingpeaks.com.
Head over to our SHOP page for additional offers from Marni on the Move partners, sponsors, and guests including Navitas Organics, Sun Potion, Amrita Health Foods and more.
SUBSCRIBE
Sign up for our weekly newsletter, The Download for Marni on the Move updates, exclusive offers, invites to events, and exciting news! Check out past editions: January 2020, November 2019. August 2019  December 2018 November 2018
SHARE
Leave us a review on Apple. It's easy, scroll through the episode list on your podcast app, click on five stars, click on leave a review, and share what you love about the conversations you're listening to.
Tell your friends to what you love on social. Screenshot or share directly from our stories the episode you're listening to, tag us and the guests, and use our new Marni on the Move Giphy!