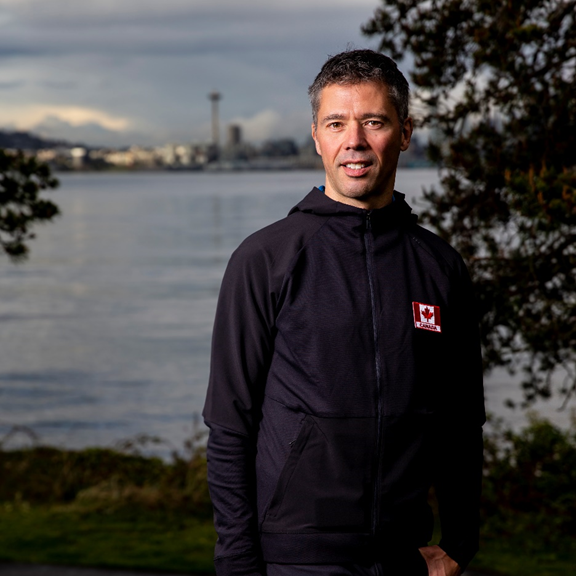 Last week was an action packed, politically charged week around the globe, with good reason, Black Lives Matter. We all need to stand up, take action, and put an end to racism, inequality and injustice in the world.  I did not post my weekly episodes out of respect, to make space for the important conversations and voices that needed to be heard.  I am happy to be back with you this week, and while I am not moving on, I am moving forward with great guests for you to discover this summer.
On this episode, I sync up with Kevin Rutherford, a runner, triathlete, and Chief Eternal Optimist of Nuun, the sports hydration electrolyte tablets that I have been adding to my water for racing and training for nearly a decade. As we head into summer months, spending more time outdoors, hydration and electrolyte replacement is so important. Nuun is my go to and they have lots of great flavors- my fave Strawberry Lemonade. Kevin and I sync up about where his journey into endurance sports began, his career trajectory that brought him to Nuun and how the brand has grown and expanded over the years. Nuun began on the endurance sports scene, as the first company to separate electrolyte replacement from carbohydrates.  It is a healthy, hydrating beverage without all of the extra sugar and additives. Since the brands inception, they have expanded their product line from sports hydration to vitamins, immune system boosters and more. Nuun has become a "must-have" product for more and more people around the globe.
CONNECT
Nuun on Instagram
Nuun on Facebook
Kevin Rutherford on Instagram
MarniOnTheMove Instagram, Facebook, or LinkedIn
Marni Salup on Instagram @MarniSalup
SHOP
Mad Ritual CBD Balm has changed our sports and fitness recovery game in a big way!  Get ready to recover like a rebel with these awesome high quality CBD infused products!  Shop with our code marnionthemove for 15% off your purchase
Head over to our SHOP page for additional offers from Marni on the Move partners, sponsors, and guests including Amrita Foods, Mad Ritual CBD balm, Navitas Organics, Sun Potion,and more.
SUBSCRIBE
Sign up for our monthly newsletter, The Download for Marni on the Move updates, exclusive offers, invites to events, and exciting news!
Check out past editions: January 2020, November 2019. August 2019  December 2018 November 2018
SHARE
Leave us a review on Apple. It's easy, scroll through the episode list on your podcast app, click on five stars, click on leave a review, and share what you love about the conversations you're listening to.
Tell your friends to what you love on social. Use our new Marni on the Move GIF in your Instagram Stories. Screenshot or share directly from our stories the episode you're listening to, tag us and the guests, and add our GIF.
#DOWHATMOVESYOU #GETMOVING #MARNIONTHEMOVE