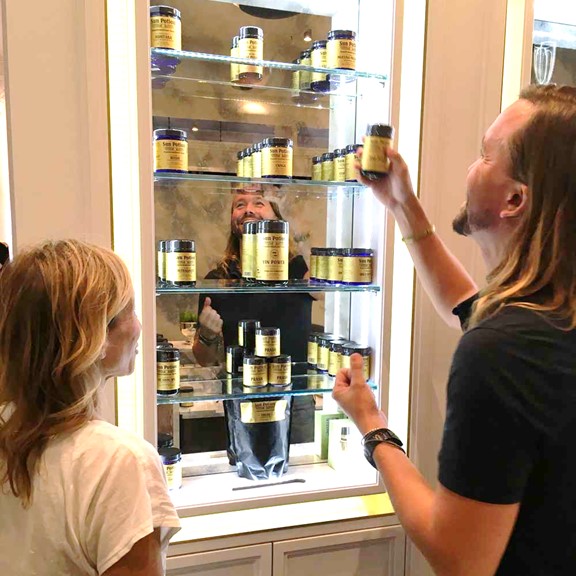 Scott Linde is the Founder of Sun Potion Transformational Foods, a company dedicated to health, happiness and well-being through the use of medicinal plants, superfoods and tonic herbs.  Sun Potion brings the highest quality tonic herbs, algae, greens, and mushrooms available to all in single-ingredient, pure powder, and whole food form.
Marni syncs up with Scott about the his entrepreneurial path through spiritual discovery and the healing powers of tonic herbs and mushrooms and how they promote healthy sleep cycles, balance hormones and cultivate a healthy immune system fortifying and building subtle energies in the body.
Marni and Scott talk about his athletic childhood (skiing, running and competing on the U.S Triathlon team at 19) growing up in Minnesota; working in real estate in LA; followed by 5 years living off the grid and "JOB" free. During this 5 years, Scott spent his time reconnecting with himself and nature through dispersion camping, mountain biking and hiking in Oregon, living in a Yoga Ashram on Mount Madonna in Santa Cruz, and then the Ojai Foundation. It was here that he fell in love with tonic herbs, making them part of his daily life, and this organically evolved into his current company, Sun Potion Transformational Foods. Scott and Sun Potion have been featured everywhere from Allure, Elle, Glamour, Goop, Forbes and Vogue.
People, places and things we mention on this episode:
Erewhon Market
http://www.erewhonmarket.com/
Rescue Spa
http://www.rescuespa.net/
Pubmed.org
https://www.ncbi.nlm.nih.gov/pubmed/
Mount Madonna
https://www.mountmadonna.org/
Ojai Foundation
Adaptogens
Ashwaganda
Resihi
Cordyceps
Sun Potion Transformational Foods source the planet for potent, healing substances with the ability to transform consciousness and health.  They work with suppliers who can meet our stringent quality standards and commitment to purity.  They only source Organic and/or Wildcrafted products and we never use ingredients that have been chemically treated in any way. Sun Potion products are created and shared with integrity.
Owner and Founder Scott Linde developed the company through his own transformational experience with these foods. With a background in Rolfing (Structural Integration), he began to notice profound shifts in his own body and consciousness with the addition of tonic herbs and superfoods to his diet. These shifts transcended the optimum state of well-being he had already sustained in his field of work!   The line evolved from Scott's personal motivation to source the highest quality tonic herbs, algae, greens, and mushrooms from around the globe: simply because this was what he wanted to put in his body! With the natural tendency to share with others, Scott began to offer the foods to friends and clients, and the company formed in response to the positive shifts in the community's health and organically growing demand for these Transformational Foods.
Shop Sun Potion
www.sunpotion.com
Follow Sun Potion on social
Facebook @sunpotionsuperfoods
https://www.facebook.com/sunpotionsuperfoods/
Instagram @sunpotion https://www.instagram.com/sunpotion
Follow MarniOnTheMove
Sign up for our newsletter: www.marnionthemove.com
Facebook:@MarniOnTheMove
Instagram @marnisalup and @MarniOnTheMove
Twitter @marnisalup
#MarniOnTheMove
Thank you for tuning in!