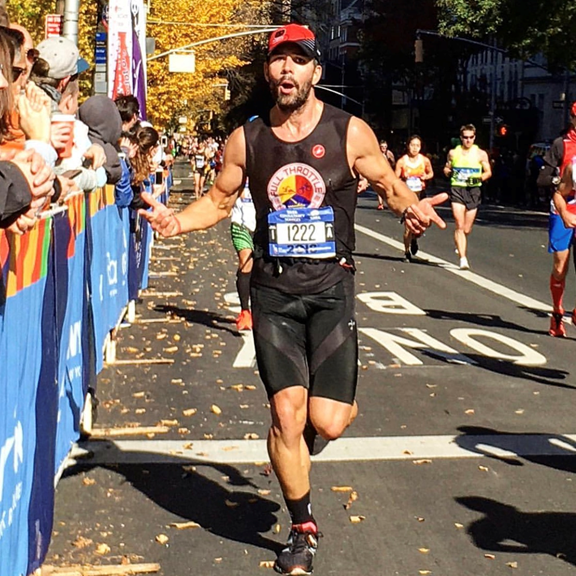 Andrew Kalley is one of NYC's top triathlon, running, strength and conditioning coaches and an award winning runner and triathlete. In 2019 he came in 4th in his age group at Nationals, 2nd in his age group Ironman Augusta 70. 3 and beat his all-time run off the bike at Ironman World Championships in Nice with a 1:18 time.  Overall, Andrew has won at least 12 races in his career including Mighty Hamptons, New York City Triathlon, South Beach Triathlon, Stamford Triathlon, Mightyman Sprint and more.  He has qualified 8x for the ITU World Championship to represent Team USA.  All of which he does as part of the Full Throttle Endurance Team, one of the most impressive tri teams in the Northeast, which he has been part of for the past 12 years as a coach and athlete. Andrew is a lifelong athlete, native New Yorker, and a new dad. In his career he has coached thousands of athletes for multisport and endurance sports.  He certainly knows a thing or two about the purpose and concept of long slow distance.  On today's episode, I sync up with Andrew to get some training and race tips for both running and triathlon.
TOPICS
Long Slow Distance: Going Long Slow to Go Long Fast
 Zone 2 Training
Time VS Miles
Learning to Trust in Your Training
The Winning Gear
Building A Base and Maintaining Fitness In The Off Season
Become a More Efficient Athlete + Optimizing Your Energy Systems
Triathlon + Running Strategy
Frequency + Consistency for Fitness Maintenance, Performance,  and Improvement
Race Day Mantras + Mindset
CONNECT 
@KalleyFitness on Instagram and Twitter
@MarniOnTheMove Instagram, Facebook, or LinkedIn
Special thanks to Long Slow Distance series partners Mad Ritual, On, Roka, SaltStick, Nuun Hydration, and Navitas Organics.
Shop our Offers, Deals, and Favorite Products + Brands from our new series Long Slow Distance on our website.
Sign up for our Newsletter, The Download for Marni on the Move updates, exclusive offers, invites to events, and exciting news!
FOLLOW SERIES PARTNERS
@MadRitual
@Onrunning
@roka
@SaltStick
@NuunHydration
@NavitasOrganics
ABOUT OUR PARTNERS
Mad Ritual
Mad Ritual has changed my recovery game in a big way!  Get ready to recover like a rebel with these awesome high quality CBD infused products!  Their CBD Balm is off the charts amazing! And I'm not the only one that thinks so, Mad Ritual has 100+ five star reviews. They also offer a terrific CBD infused total recovery supplements. Not just for athletes, the products are formulated to ease all of the aches and pains that come along with being an active human.  So, if you're sore from life, Mad Ritual gets it. Founded by women, athletes, and active entrepreneurs, they are committed to helping active folks bring more balance to their lives. Shop with our code marnionthemove for 15% off your purchase.
On
On running shoes offer runners the perfect mix of design and function, Running in On is a game changing experience thanks to their proprietary Cloudtec ® Technology, you really do feel like you are running on clouds, whatever your shoe preference is.  Discover and learn more from Co-Founder David Allemann was a guest on the Marni on the Move podcast, tune in and find out more.  Shop On!
Roka
I've been wearing Roka wetsuits for triathlon for the past five years and they have been a terrific for my swimming speed and comfortability.  When I learned they were expanding beyond wetsuits and goggles and introducing eyewear, I immediately got a pair of their sunglasses, which I have been wearing for the past four months. No matter how hard I try, I can't shake them off my head, which is great since I am always on the move.  All Roka products are high tech, performance focused, with functional design. Behind the brand, are founders and athletes designing product for athletes, like themselves. Learn more on the podcast with Co-Founder Kurt Spenser. Shop with our code MARNI for 20% off at https://www.roka.com. This is not applicable for optical use.
SaltStick Caps, Buffered Electrolyte Salts
SaltStick Caps are my go-to for training and racing.  They reduce heat stress, muscle cramping, and maintain electrolyte levels. SaltStick offers the ONLY electrolyte capsules, liquid add-ins and chewable tablets that were formulated to closely resemble the electrolyte profile lost during activity: sodium, potassium, calcium and magnesium. Use the code marni20 for a 20% discount at checkout when you visit shopsaltstick.com. Please note this is only available to people with a U.S. mailing address and will expire on 12/31/2019.
Nuun Hydration
My other go-to fueling and hydration resource is Nuun Hydration. I simply add their hydration tablets to my handheld water bottle. It tastes great, there are lots of amazing flavors. I'm currently obsessed with their Watermelon Sport Hydration and The Blackberry Vanilla REST.  Nuun began as the first company to separate electrolyte replacement from carbohydrates. It is a healthy, hydrating beverage without all of the extra sugar and additives.  Nuun Hydration uses clean ingredients that are non-GMO, gluten free and vegan.
Navitas Organics
For nearly a decade, I have been using these plant based superfood ingredients, adding them to smoothies, including their all in one organic essential superfood blends with proteins, greens, probiotics and enzymes for post workout recovery or simply for breakfast or an afternoon snack. I also add their Maca for Adaptogens, Camu Camu for extra Vitamin C, and Cacao.  Navitas Organics offers an incredible line of CBD infused ready –to-drink wellness shots-restore, calm, focus and bliss and a delicious line of Superfood Lattes. Head over to their website and stock up. Tune in and download the Marni on the Move podcast episode with Navitas Organics Founder and CEO, Zack Adelman to hear more.  Shop https://navitasorganics.com  and get 25% off your first purchase with the code MOVE25 upon checkout.
Long Slow Distance is a Marni on the Move series and a FIT + LOVE MEDIA Production