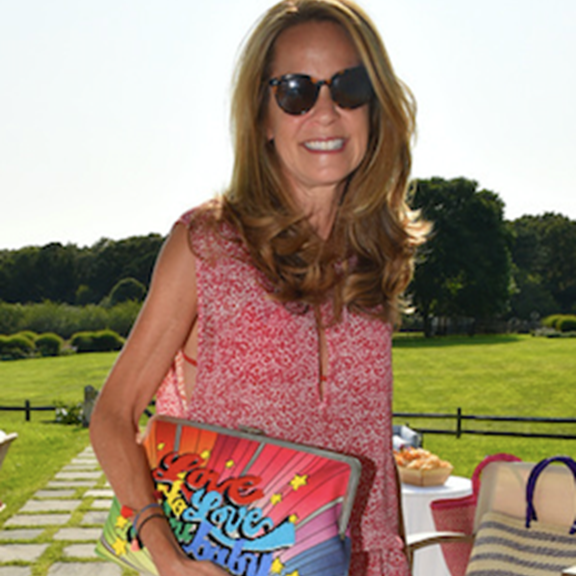 Susan Sandler is the Founder of PopUpSummer! and Host of The Pop-Up Biz podcast. She is a true entrepreneur and pioneer, has an eye for style and a talent for bringing brands to life through experiential real time and digital activations and pop-ups. Fueled and inspired by her love of fitness and fashion, Susan launched her first pop-up in the Hamptons, Endorphin Retail,  which was a very unique concept at the time, incorporating fitness and fashion, marking the beginning of her company, PopUpSummer!, which she launched in 2002. PopUpSummer! focuses on presenting emerging designers and brands and their collections to new markets and audiences, pioneering a new way for them to generate revenue and gain exposure.
Susan and I met at one of her  fitness, fashion and beauty pop ups at the Refinery Hotel in NYC years ago, flash forward we just wrapped production in October 2020 of Season One of her business podcast, The Pop-Up Biz.  Susan  interviews world renowned guests from art, fashion, retail, restaurants and talks about the latest and greatest in experiential retail, marketing and pop-ups. Her A-List guest list includes: Fashion icon Fern Mallis, Emmy Award Winning and Hamilton Set Designer, David Korins, Ed Starr of BMF , Michelin Star Chef, Austin Johnson and clean beauty brand Founder, Indie Lee.
During our conversation, Susan shares where it all began, how her love of yoga and spinning inspired her company vision, she shares key entrepreneurial lessons she learned along the way, the workouts and wellness routines that continue to fuel her for success. Susan offers an inside look at the world of pop-ups from IRL events and hybrid activations to strategic digital platforms, video shopping apps, and what brands need to be thinking about as we move into 2021.
Throughout her career Susan has worked with hundreds of companies and brands to reach thousands of customers in innovative ways. Through PopUpSummer!, Susan  has developed successful activations and campaigns to bring brands to life and curate unique shopping experiences for consumers through merchandising, storytelling, programming and marketing.
I hope you enjoy!
CONNECT
PopUpSummer! on Instagram + Facebook
Susan Sandler on LinkedIn 
Marni On The Move Instagram, Facebook, or LinkedIn
Marni Salup on Instagram
SUBSCRIBE
Sign up for our weekly newsletter, The Download for Marni on the Move updates, exclusive offers, invites to events, and exciting news!
OFFERS
Take control of your health and wellness journey with InsideTracker, the ultra-personalized nutrition platform that analyzes your blood, DNA, and lifestyle to help you optimize your body from the inside out. Transform your body's data into meaningful insights and a customized action plan of the science-backed nutrition recommendations you need to optimize your health!  Get twenty percent off today at InsideTracker with our code THANKYOUMOTM.
Mad Ritual CBD Balm has changed our sports and fitness recovery game in a big way!  Get ready to recover like a rebel with these awesome high quality CBD infused products!  Shop with our code marnionthemove for 15% off your purchase..
TrainingPeaks is offering Marni on the Move listeners 30 days of free Premium. Use our code: Marnionthemove on their website, www.trainingpeaks.com.
Head over to our SHOP page for additional offers from Marni on the Move partners, sponsors, and guests including Navitas Organics, Sun Potion, Amrita Health Foods and more.
SHARE
Leave us a review on Apple. It's easy, scroll through the episode list on your podcast app, click on five stars, click on leave a review, and share what you love about the conversations you're listening to.
Tell your friends to what you love on social. Screenshot or share directly from our stories the episode you're listening to, tag us and the guests, and use our new Marni on the Move Giphy!