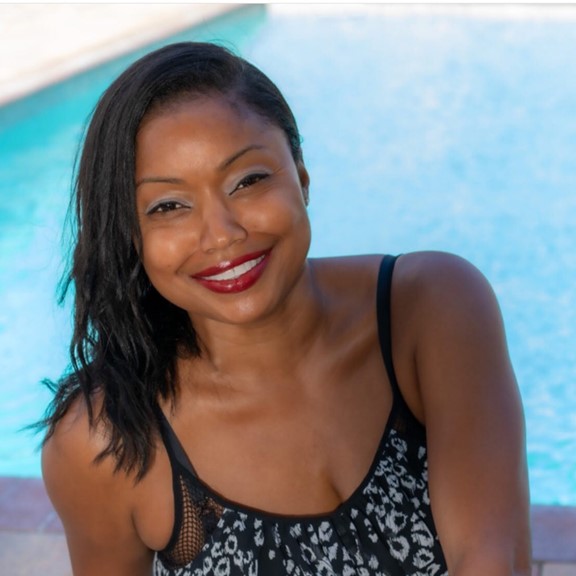 Today on the podcast I sync up with the incredibly talented contemporary mixed media fiber artist, Michelle Drummond. Currently, an Artist in Residence at Arts WAREHOUSE in Delray Beach Florida, you may have seen her work at the Muse Art Fair Miami 2019 during Art Basel Week or the Red Dot Art Fair Miami 2018 during Art Basel Week  and most recently her work is part of the Public Art Permanent Installation – The Metamorphosis, 2022, Mandel Public Library, West Palm Beach.
Michelle's artwork is full of vibrant colors, whimsical style, and her unique signature three dimensional forms. Each piece carries an underlying message of optimism, strength and perseverance. It exudes the true expression of her quest for life and the influence of her rich Jamaican culture, her experiences living here in the United States and exploration of other cultures through her travels.
Before venturing into art and entrepreneurism, Michelle played competitive field hockey and was a member of the Jamaica Women's Hockey Team where she represented Jamaica in various events internationally. Michelle was one of the first Jamaican national players to have been offered an academic scholarship to study at the St. Lawrence University and simultaneously represent the University through field hockey.
Michelle and I sync up about where her passion for art and creativity began, the inspiration behind her work, growing up in Jamaica her love of field hockey, how she continues to play, and how it fuels her for success.
CONNECT
Michelle Drummond  on Instagram
Marni On The Move Instagram, Facebook, TikTok, LinkedIn, or YouTube
Marni Salup on Instagram, Spotify, Zwift, Strava, Peloton
SUPPORT THE PODCAST
Leave us a review on Apple. It's easy, scroll through the episode list on your podcast app, click on five stars, click on leave a review, and share what you love about the conversations you're listening to. Tell your friends to what you love on social. Screenshot or share directly from our stories the episode you're listening to, tag us and the guests, and use our new Marni on the Move Giphy!
SUBSCRIBE TO OUR NEWSLETTER
Sign up for our weekly newsletter, The Download for Marni on the Move updates, exclusive offers, invites to events, and exciting news!
PARTNER OFFERS
Take control of your health and wellness journey with InsideTracker, the ultra-personalized nutrition platform that analyzes your blood, DNA, and lifestyle to help you optimize your body from the inside out. Transform your body's data into meaningful insights and a customized action plan of the science-backed nutrition recommendations you need to optimize your health!  Get 25% percent off today at InsideTracker
Alkamind Supplements and Dr. Daryl Gioffre. The Alkamind Plant-Based Organic Protein Powder has been a terrific addition to my nutrition and training. It has three core alkaline proteins  Satcha Inchi, Pea, and Hemp. Plus, Coconut Oil ( which turns your body into a fat burning machine), and of course it's sugar free.  I am also using their Acid Kicking Mineral Mix when I am out on the bike for hydration, as well as the Acid Kicking Greens, and the Omega 3 and Black Seed Oil supplements for general health. Check out their website and use our code MARNI15 for 15 % off.  Also listen to my convo with Dr. Daryl Gioffre on the podcast, its Acid Kicking!