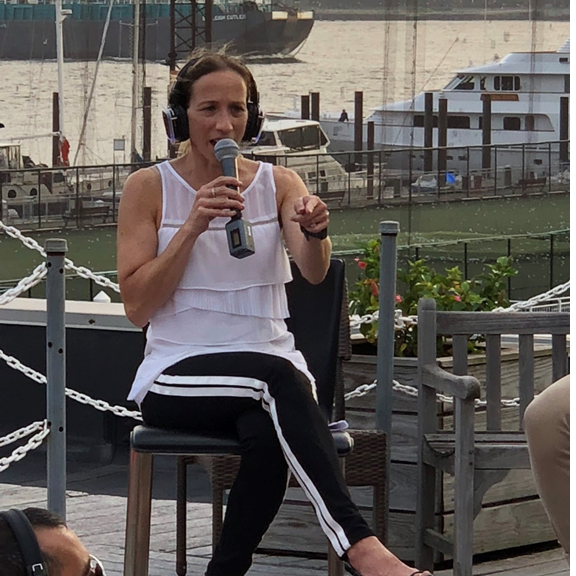 Today's episode is all about mindset and intentions across athleticism, career, fitness, and wellness.  You will hear from former podcast guests (on new topics) including top professional and elite athletes, Andia Winslow and Andrew Kalley, and entreprenurs and founders Murray Hidary and Louis Sagar and learn how they  leveraged thier athletic mindset to empower them with the perseverence, focus, and dedication to succeed in their career, the strenth and flexibility to power through severe life illnesses and overcome family loss.  From triathlon, golf and running to CBD, music, and meditation you will be inspired and motivated to get started on your next athletic or entreprenurial endeavor.
This was the first Marni on the Move LIVE panel which took place at world renowned athletic complex and NYC gym, Chelsea Piers Fitness.Panel guests include:Professional Athlete-Golfer and Runner, Andia Winslow, who has been building her career as a successful on-air personality and voice over talent over the past several years, Andrew Kalley, an winning Elite Athlete, triathlon coach and personal trainer at Chelsea Piers Fitness with his own portfolio of clients at Kalley Fitness, Louis Sager, the CEO of The Alchemist's Kitchen , and Murray Hidary, piianist, entrepreneur, creator of MindTravel, a musical meditation and experience.
It truly was a magical evening. We were on the deck outside, overlooking the Hudson. The event began with the panel, where listeners got to experience first-hand,, what it was like to be part of the podcast with digital wireless headsets almost as if they were in the room where it happens, thanks to Murray Hidary of MindTravel. Following the panel, Chelsea Piers Fitness talented and popular yoga teacher, Danielle Prager led a vinyasa style yoga class to the music of MindTravel and Murray continued to play trugh savasana into the night.
While all of this sounds wonderful and amazing, the episode audio is a little rough at first. Like a true entrepreneur, I had a vision and took a big risk, my first time recording a live event at this venue and really set the barre high. We were outside, recording digitally, no wires, with some technical interference and signals and occasional helicopters in the background.  My audio engineers are terrific. But it's not the same as being in the studio so I wanted to prepare you for a few glitches here and there. However, it's a really inspiring and empowering conversation and can maybe plant some seeds for you as we move into the New Year!
If you like what you hear, please leave us a five-star review on Apple Podcasts. Head over to our website www.marnionthemove.com for more details and links n the show notes, and sign up for our quarterly newsletter, The Download, to learn about more live events for 2019, podcast updates, great deals and giveaways from our partners.
Follow Us On Social
@Marnionthemove
@AndiaWinslow
@Kalleyfitness
@Mindtravelmusic
@TheAlchemistsKitchen
@ChelseaPiersFitness
We hope you enjoy!