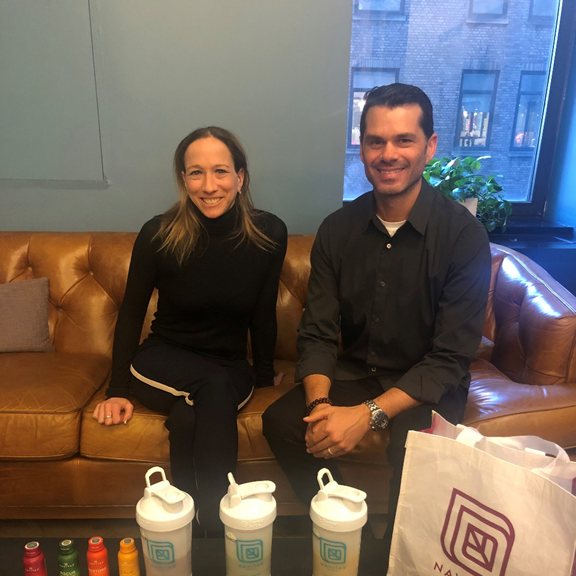 FLASHBACK FRIDAY: We are bringing you conversations from the archives of Marni on the Move, every Friday! For the month of July,  you will hear from a few of our favorite wellness guests, stay tuned.
From Maca and Cacao to CBD, Hemp and the superfoods in between, Zach Adelman and his company, Navitas Organics®, have been pioneers on the wellness scene since launching in 2003 and continue to innovate and grow. The company offers a wide range of nourishing foods used for baking, cooking, smoothie making and ready to pop-in-your-mouth snacking to empower a modern, nutritious lifestyle. The wellness products include single ingredients, snack foods, nutritional blends and bars.
On this episode, Zach + Marni  talk about where and how Navitas Organics® began, Zach's wellness journey, what it was like pioneering and growing his business, the robust superfoods that are essential to Navitas Organics®, his wonderful family and the workouts that fuel him for success.
Navitas Organics® is a premium organic superfood company offering the best quality, plant-based and superfood ingredients and snacks. Most Navitas Organics® products are USDA certified organic, non-GMO and contain health benefits that have been celebrated for generations – handled with purpose and care to preserve their vital superfood nutrients.
I have been mixing their plant-based superfoods into my smoothies for years.  I love their Cacao, Camu Camu, Hemp Protein and essential superfood blends which I use daily for protein and greens, post-workout.
NEW + EXCITING AT NAVITAS ORGANICS
Navitas Organics  Superfood+Blends, Cacao  and  Latte Mixs 
CONNECT
Navitas Organics on  Instagram
MarniOnTheMove Instagram, Facebook, or LinkedIn
Marni Salup on Instagram
SHOP
Discover Navitas Organics and use our code MOVE25 for 25% off your entire order.  One use per customer through 12/31/20. Navitas Organics is committed to creating a healthier world through regenerative organic farming and plant focused lifestyles. They dedicate their energy to sourcing the most ethically grown, powerfully nutritious plant-based superfoods to fuel you for success!
Head over to our SHOP page for additional offers from Marni on the Move partners, sponsors, and guests including Mad Ritual CBD balm, Sun Potion,and more.
SUBSCRIBE
Sign up for our monthly newsletter, The Download for Marni on the Move updates, exclusive offers, invites to events, and exciting news!
Check out past editions: January 2020, November 2019. August 2019  December 2018 November 2018
SHARE
Leave us a review on Apple. It's easy, scroll through the episode list on your podcast app, click on five stars, click on leave a review, and share what you love about the conversations you're listening to.
Tell your friends to what you love on social. Use our new Marni on the Move GIF in your Instagram Stories. Screenshot or share directly from our stories the episode you're listening to, tag us and the guests, and add our GIF.
#DOWHATMOVESYOU #GETMOVING #MARNIONTHEMOVE