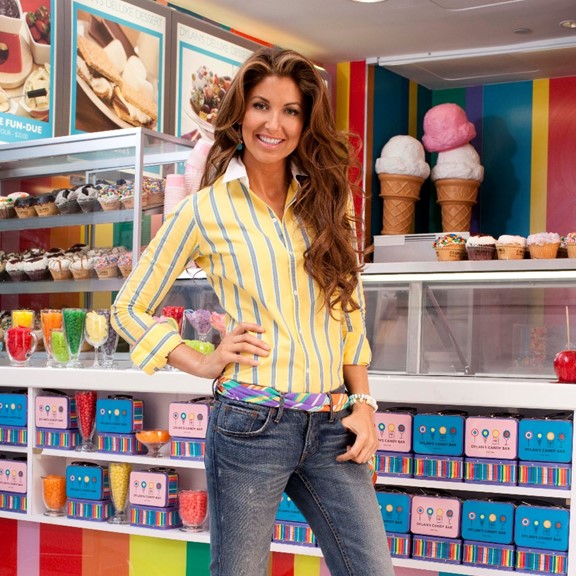 Nearly two decades ago my  next guest pioneered creating the world's largest candy store, confectionery emporium and lifestyle brand, Dylan's Candy Bar. Dylan Lauren merged her love of art, fashion and pop culture with candy and has innovated the way we see and experience candy today. Her story is empowering and inspiring as she pursued her lifelong dream to do what she loves. She transformed her creative vision into a reality and continues to innovate every day.
If you haven't already been, Dylan's Candy Bar transports you to a modern day version of Willy Wonka's factory from the moment you enter with its pop art installations—such as the iconic oversized lollipop tree, candy cane columns, dripping chocolate shelves, kaleidoscopic candy wallpaper and candy-embedded staircases— even I can't resist.
In addition to thousands of edible treats and activities, there are also candy-inspired lifestyle products. From stationery to technology, toys, jewelry to handbags, scented body lotions to sweaters. There are Ice Cream & Dessert Parlor, Candy Cocktail Bar and Party Rooms offering a wide variety of themed events for all ages
Since its inception and flagship opening in New York City, Dylan's Candy Bar has expanded to US locations such as Chicago, Los Angeles, Miami and East Hampton. Also in luxury boutiques, department stores, and premium hotels nationally and internationally. Dylan's Candy Bar plans to continue expanding worldwide.
Dylan's love of candy paralleled by her passion to help animals of all kinds.  She launched Dylan's Candy Barn, a platform with the mission is to help every animal lead a happy life and find a home-sweet-home by hosting adoption events, granting funds to rescue organizations, and creating awareness campaigns.
And last but not least, ever since I have known Dylan, which is probably also nearly two decades, she has been super athletic, into fitness and training and followed an incredibly healthy diet mixed with candy, of course!
Fueled by exercise, fitness, and her love of candy, Dylan is all about balance and always has been.
On this episode of Marni on the Move, Dylan and Marni met up at  her newly designed office to reconnect and sync up about everything from our shared love of animals, being a founder and  entrepreneur and the innovative Dylan's Candy Bar, her current fitness "go-to" and her adorable children Cooper Blue and Kingsley Rainbow.
Connect with Dylan's Candy Bar 
Connect with Marni on the Move 
Please Enjoy!
If you like what you hear, tell your friends, forward the link, and leave a five-star review on iTunes, or whichever listening platform you get your podcasts on. You can also support the podcast by downloading episodes, subscribing to the podcast, signing up for our mailing list, and shopping with our partners.
And, Save the Date: August 1, 2018 6:30 PM -9:00 PM for our next live panel in NYC! Sign up for info here