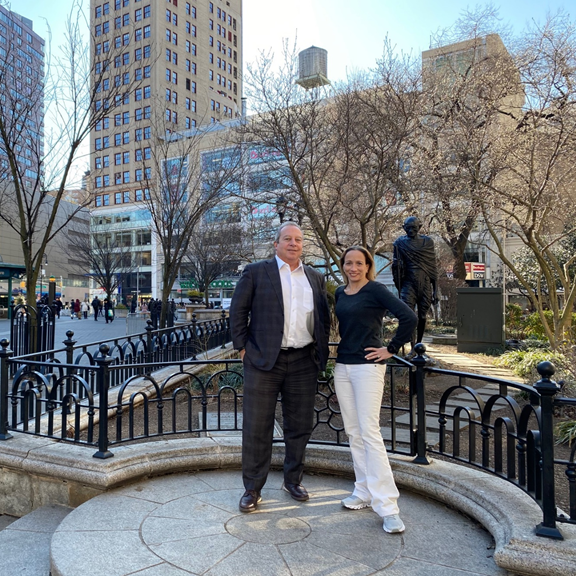 Bill Abramson is the Director of Brokerage at Buchbinder & Warren Realty Group where he oversees all commercial and residential sales and leases. He serves on the Real Estate Board of New York (REBNY), on both the Residential Rental and Retail Committee's. Bill is the co-chair of Union Square Partnership, he is a Member of The Greenwich Village Chelsea Chamber of Commerce and Village Alliance. In addition, Bill is a recipient of the 2000 David Rockefeller Fellowship that helps develop top private sector leaders and engages them in New York City's public arena and Mayor Bloomberg appointed Bill to the Workforce Investment Board, where he currently serves on the One Stop Committee.
Bill and I recorded this original conversation in late January pre-Covid-19, before NYC and the rest of the world hit pause.  While some of the conversation is evergreen and incredibly relevant, some of it is changing because of the current economic climate and world health pandemic. I reached back out to Bill on a call to get his thoughts and an update on some of the questions and topics as they relate to now, April 6, 2020.
On this episode, Bill and I sync up about his early career in sports management, his journey into real estate, and his passion for economic development and community building. He shares how BW is navigating and adapting to a new landscape shadowed by COVID 19.  We talk about the NYC retail scene at the start of 2020, during COVID-19, and his thoughts on the future.   And of course, he shares the workouts and wellness routines that fuel him for success.
Bill and his team have helped shaped the commercial and residential landscape of several of NYC's most popular neighborhoods including Union Square, Greenwich Village, Chelsea and Madison Avenue Bringing in retailers from fitness, fashion, beauty, eateries, fine dining and more.
CONNECT
Buchbinder & Warren on Instagram @buchbinderwarren
MarniOnTheMove Instagram, Facebook, or LinkedIn
Marni Salup on Instagram @MarniSalup
Sign up for our newsletter, The Download for Marni on the Move updates, exclusive offers, invites to events, and exciting news! Tell us what you love about the show via email [email protected].
SHOP MOTM OFFER
Mad Ritual CBD Balm has changed our sports and fitness recovery game in a big way!  Get ready to recover like a rebel with these awesome high quality CBD infused products!  Shop with our code marnionthemove for 15% off your purchase