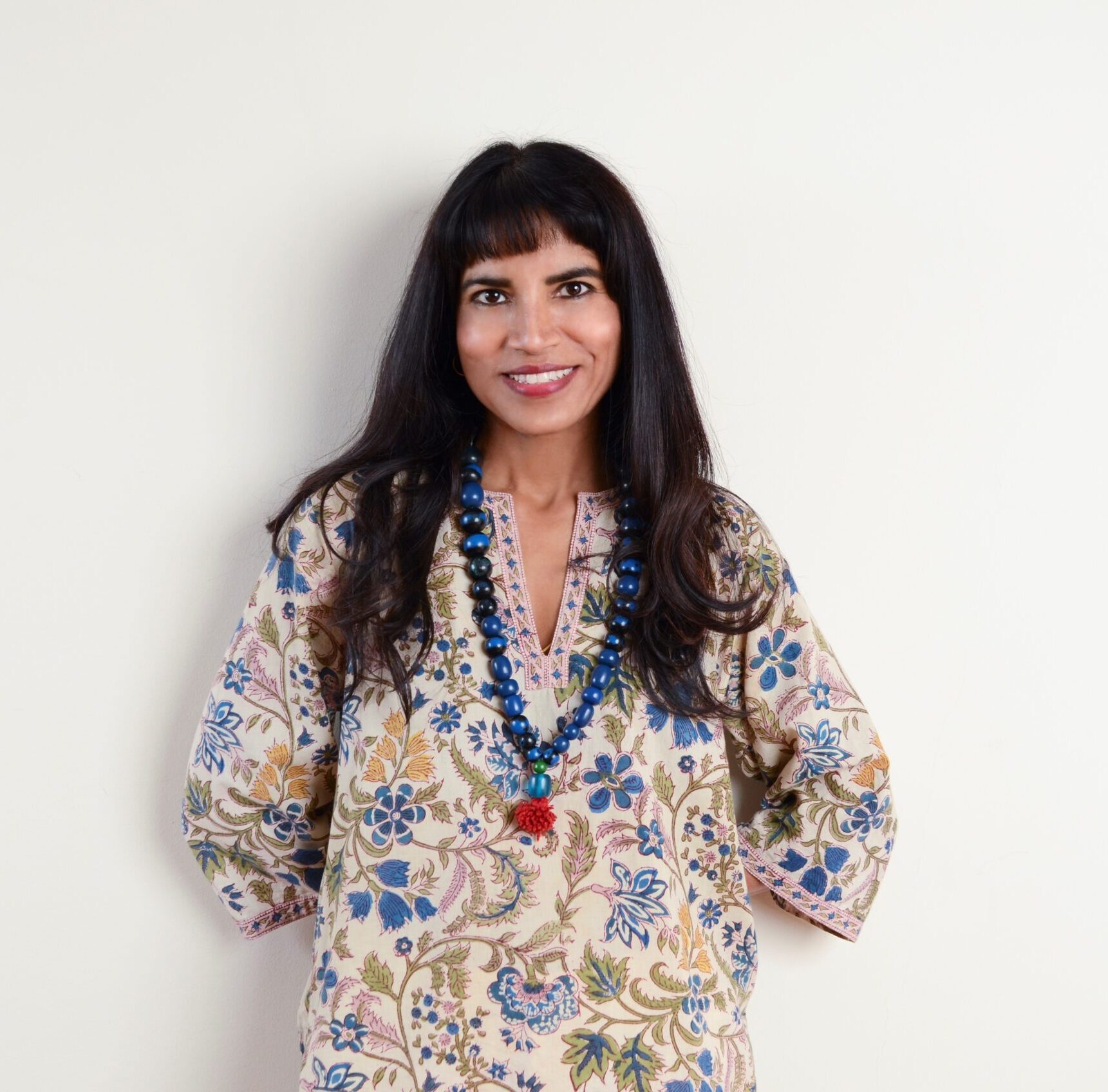 Monisha Raja is the Founder of Monisha Raja Yoga where she offers online and real time hatha yoga classes, and workshops and Ayurvedic Coaching . She is also the Founder of Yoga for Covid™  a program she developed based on her personal covid experience and healing and Founder of Love is Mighty, her cruelty-free fashion footwear and accessories brand, rooted in the yogic principle of Ahimsa (non-violence). Born and raised in India, Monisha Raja began her practice at the age of four and has been teaching for over 20 years in New York City.  We caught up just after she returned from a twenty-day Vipassana Mediation. Monisha shares her experience, key learnings and why mediation is important, wherever you are in your practice.
We chat about her Yoga Studio and classes, and how she pioneered an evidence-based Yoga treatment of Covid through Asana and Pranayama practice, based on her own experience with COVID.  At the suggestion of her medical doctor at Mt. Sinai, he encouraged her to help others through these ancient healing techniques, and YOga for Covid was born.  She has been conducting her Yoga-For-Covid classes since May 2020. One of the movements she emphasizes  during our convo is the importance on of neck movement ( Brahma Mudra) for combating brain fog, cleansing the lymphatic system and cervical lymph nodes and why the neck is such an important bridge between the brain and the body and the rest of the organs.
She sheds light on her collaboration with scientists and researchers such as Dr. William Bushell and Eddie Stern, on the therapeutic potential and impact of Yoga and talks about YOGA AID, a non-profit organization she founded in 2021, committed to honoring Yoga's roots and source culture – India, and amplifying Indian South Asian voices in the field of Yoga and health. We also talk about the Ayurvedic Coaching studies she did with Dr. Deepak Chopra and how she has integrated this science into her existing yoga offerings. And, yes, we talk about Duran Duran, because without them, Monisha might not be in NYC!
If you live in NYC, Monisha is hosting a Headstand Workshop at the Broome Street Temple on Wednesday the 26th of October, head over to her website manisharajayoga.com for details. DM Marni On The Move if you want to come.
MENTIONS
Broome Street Temple 
Dr. Deepak Chopra 
Get Tickets: Sacred Music For Sacrad Forests Wildlife Fundraiser
CONNECT
Monisha Raja Yoga on Instagram, Facebook
Marni On The Move Instagram, Facebook, TikTok, LinkedIn, or YouTube
Marni Salup on Instagram and Spotify
OFFERS
AG1 by Athletic Greens: Get 5 free travel packs and a year's supply of vitamin D with your first purchase at AthleticGreens.com/MarniOnTheMove
InsideTracker: Get 20% percent off today at InsideTracker.com/marnionthemove
Revitin is a prebiotic toothpaste. Get 15% off and use our code Marni 15 at Revitin.com
SUPPORT THE PODCAST
Leave us a review on Apple. It's easy, scroll through the episode list on your podcast app, click on five stars, click on leave a review, and share what you love about the conversations you're listening to. Tell your friends to what you love on social. Screenshot or share directly from our stories the episode you're listening to, tag us and the guests, and use our new Marni on the Move Giphy!
SUBSCRIBE TO OUR NEWSLETTER
Sign up for our weekly newsletter, The Download for Marni on the Move updates, exclusive offers, invites to events, and exciting news!