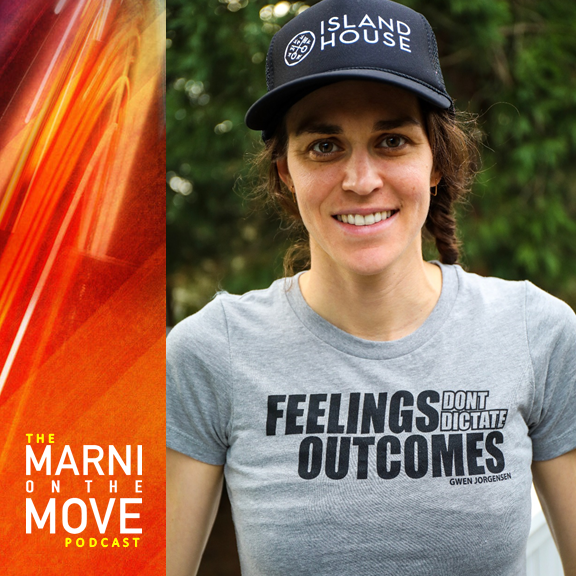 On August 20, 2016, on the hot sunny beaches of Copacabana, in Rio, Brazil, one woman changed the course of sports history, setting a new record in Triathlon and becoming the first American athlete to win the gold medal for Triathlon at the 2016 Rio Olympics.  Her name, Gwen Jorgensen!
Marni sync's up with Gwen to talk about her most recent gold medal, Stanley Lemieux, born August 16, 2017 and her next gold medal goal, the Marathon at the 2020 Tokyo Olympics.  They discuss getting back to training after having a baby, her foray into triathlon and her athletic roots, Gwen's training philosophy and winning mindset, the Rio Olympics 2016 and her running goals for Tokyo 2020. Gwen Jorgensen is shifting her focus, running full steam head into Marathon. Marni caught up with her (HA) to get the details. Subscribe, tune in, download and enjoy!
On the show we mention:
The 2016 Summer Olympics: Rio 2016
https://www.olympic.org/rio-2016a
The Island House Triathlon
http://www.islandhousetriathlon.com/
USA Triathlon
https://www.teamusa.org/USA-Triathlon
Follow Gwen Jorgensen
Facebook: @gwenjorgensen https://www.facebook.com/GwenJorgensenTriathlete/
Twitter: @gwenjorgensen https://twitter.com/gwenjorgensen
Instagram: @gwenjorgensen https://www.instagram.com/gwenjorgensen/
Website: www.gwenjorgensen.com
Follow Marni On The Move
Instagram @MarniOnTheMove https://www.instagram.com/marnionthemove/
Facebook @MarniOnTheMove https://www.facebook.com/marnionthemove/
Twitter @MarnionTheMove https://twitter.com/MarniSalup
Website: Www.MarniOnTheMove.com
Photos by Talbot Cox www.talbotcox.com
Your written reviews are inspiring and helpful as we bring new and interesting guests. If you enjoy the podcast please write a review on iTunes, Stitcher, GooglePlay, Android or through our website Www.MarniOnTheMove.com
Any questions, guest ideas, or feedback is welcome please email [email protected]. Sign up for our newsletter to get new episode announcements, events, deals and giveaways here: https://workandworkout.us17.list-manage.com/subscribe?u=dbba169c9f8151031c3fa7dc8&id=a37e5aba12
Thanks again for tuning in!