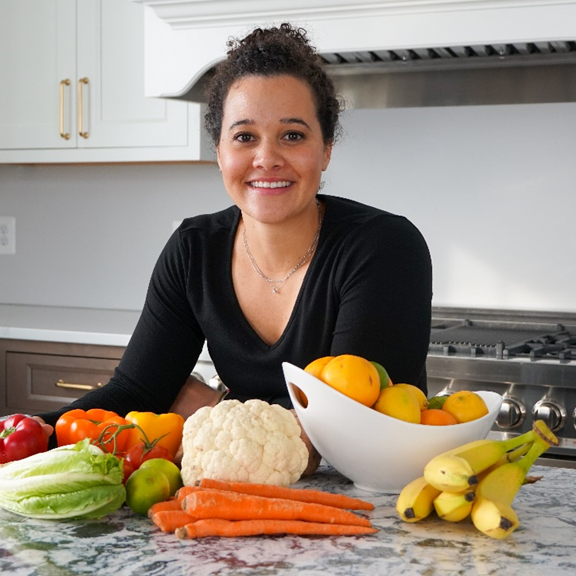 Ashley Reaver is a Registered Dietitian, Certified Sports Dietitian, and the Lead Nutrition Scientist at InsideTracker.   She is also a Nutrition Lecturer at University of California, Berkeley, has her own private practice, My Weekly Eats, and is a triathlete! Ashley is a regular on the Marni on the Move podcast. Most recently on MOTM TuesdayMoves  we do a deep dive into supplements, which ones you should be taking and the nutrients you can get from food; on MOTM EP#137 Ashley talks about cholesterol and heart health. NOW, since triathlon season and races are slowly coming back, we are reposting our first convo, from way back when. Get ready for a comprehensive convo on all things, nutrition.
Ashley and I kick off the conversation talking about performance fueling and endurance sports nutrition. We cover over training, using carbs, fat and protein as fuel for endurance athletes, volume eating, and sweat tests. We do a deep dive into immune system and stress boosting foods and nutrients, key blood biomarkers to watch from Vitamin D to Cortisol. They talk about Allostatic load, fiber, blood glucose, antioxidants, adaptations, inflammation, and more.
LISTEN
Marni on the Move, Episode #146 with Gil Blander, PhD., and Founder of InsideTracker, Gil Blander for more on InsideTracker!
CONNECT
Ashley Reaver on Instagram 
Marni On The Move Instagram, Facebook, or LinkedIn
Marni Salup on Instagram
SUBSCRIBE
Sign up for our weekly newsletter, The Download for Marni on the Move updates, exclusive offers, invites to events, and exciting news!
OFFERS
Take control of your health and wellness journey with InsideTracker, the ultra-personalized nutrition platform that analyzes your blood, DNA, and lifestyle to help you optimize your body from the inside out. Transform your body's data into meaningful insights and a customized action plan of the science-backed nutrition recommendations you need to optimize your health!  Get twenty percent off today at InsideTracker with our code THANKYOUMOTM.
Mad Ritual CBD Balm has changed our sports and fitness recovery game in a big way!  Get ready to recover like a rebel with these awesome high quality CBD infused products!  Shop with our code marnionthemove for 15% off your purchase..
Head over to our SHOP page for additional offers from Marni on the Move partners, sponsors, and guests including Navitas Organics, Sun Potion, Amrita Health Foods and more.
SHARE
Leave us a review on Apple. It's easy, scroll through the episode list on your podcast app, click on five stars, click on leave a review, and share what you love about the conversations you're listening to.
Tell your friends to what you love on social. Screenshot or share directly from our stories the episode you're listening to, tag us and the guests, and use our new Marni on the Move Giphy!