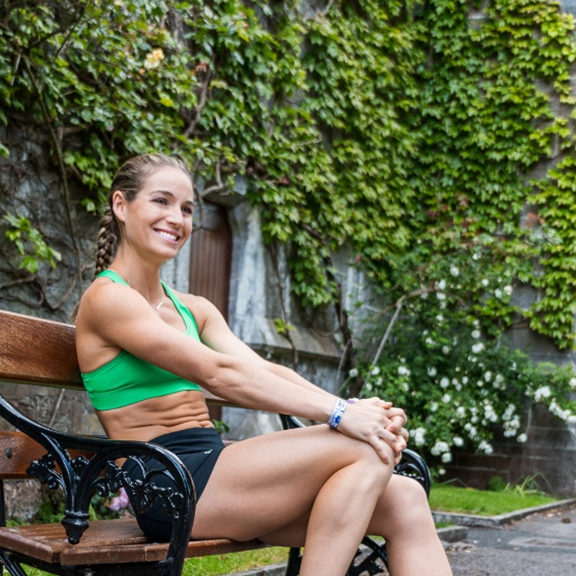 When musical theatre major, Elizabeth " Corky" Corkum, turned to running as a way to stay in shape in the competitive world of performing, she had no idea it would power her through a "quarter life crisis," fuel her for career success in an entirely new industry and transform her life forever.  Now, 21 Marathons and 20 Half Marathons later, she has a 3:03:21 Marathon PR a 1:20:07 Half Marathon PR, and has coached thousands of athletes helping them achieve PR's or simply run for fun.  Coach Corky is one of NYC's top running coaches with a proven personal and professional track record of success. She is an entrepreneur with a private coaching business, Coach Corky Runs and is a running coach at Precision Run, the performance-based indoor running program and treadmill studio co-founded and created by David Siik and Equinox.
Bit by the running bug in 2010, Corky has run every distance from 5Ks to Ultra Marathons. She has coached thousands of athletes over the years through her own coaching business as well as top coaching jobs at Mile High Run Club, Nike, JackRabbit Sports, Run SMART (with Jack Daniels), City Coach MultiSport and the City Harvest NYC Marathon Charity Team,. She has also taught running seminars internationally, and has been a contributor to Runner's World Magazine and Women's Health.
Beyond her impressive PR's and coaching, Corky has amassed some serious credentials and certifications: She is an RRCA Certified Running Coach, USATF Level 1 Certified Coach, ISSA Certified Personal Trainer and Specialist in Sports Nutrition, Red Cross CPR/AED Adult and Pediatric Certified.
On this episode, Corky and I sync up about where her journey with running began, her career and entrepreneurship, PRing, race recon and strategy, marathoning, preparing mentally and physically for races, and wrapping your mind around the comeback process.
As always, thanks for tuning in and all your great feedback on the podcast. I appreciate your DM's and questions on social, and keep those emails coming!  If you like what you hear, leave us a review on Apple Podcasts. It's easy, scroll though the list of Marni on the Move podcasts on your app, click on Write a review. Share what you like about the podcast, your favorite episodes, what inspires you.  Tell your friends to listen, email them a link, post it on your social platforms and tag Marni on the Move, and spread the love! Also, sign up for our newsletter The Download, to find out about upcoming events and summits this summer, great deals, offers, and giveaways!
Follow Us On Social
@CoachCorkyRuns on Instagram, Facebook , or Twitter
@MarniOnTheMove Instagram, Facebook, or LinkedIn
Shop our Offers, Deals, and Favorite Products + Brands
Sign up for our Newsletter, The Download for Marni on the Move updates, exclusive offers, invites to events, and exciting news!