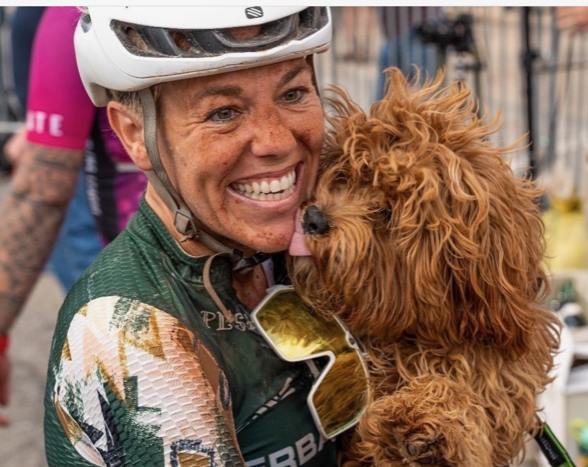 Heather Jackson is the 2023 Belgium Waffle Ride Champion, 2023 Midsouth Gravel, 3rd place winner, and world renowned Pro Triathlete, 4X Top 5 at Ironman World Champs in Kona.  Over the past few months Heather has shifted her focus from triathlon to off-road racing with her debut in Unbound Gravel and Big Sugar last year and she is crushing it!
Heather and I chat about her new focus on off-road events from gravel and MTB to trail running and UTMB. We caught up in March and Heather shared her plans for races. She was invited to compete in the Lifetime Grand Prix which includes seven Gravel and MTB races on the circuit. Of course I get the scoop on her new Canyon bikes, the Grizl Gravel  & Canyon Lux World Cup  for MTB, how she is training for these races, her fave Hoka's.  We quickly chat about Dirtbrigade, Plush Global, and Stevie, the current star of Heathers Instagram!
CONNECT
Heather Jackson Instagram, YouTube
Stevie Wattie Jackson on Instagram
Marni On The Move Instagram, TikTok, LinkedIn, or YouTube
Marni Salup on Instagram and Spotify
SUBSCRIBE TO OUR NEWSLETTER
Sign up for our weekly newsletter, The Download, for Marni on the Move updates, exclusive offers, invites to events, and exciting news!
OFFERS
InsideTracker: Get 20% percent off today at InsideTracker.com/marnionthemove
Revitin Toothpaste: Get 15% Off today at revitin.com and use our code Marni15
SUPPORT THE PODCAST
Leave us a review on Apple. It's easy, scroll through the episode list on your podcast app, click on five stars, click on leave a review, and share what you love about the conversations you're listening to. Tell your friends to what you love on social. Screenshot or share directly from our stories the episode you're listening to, tag us and the guests, and use our new Marni on the Move Giphy!