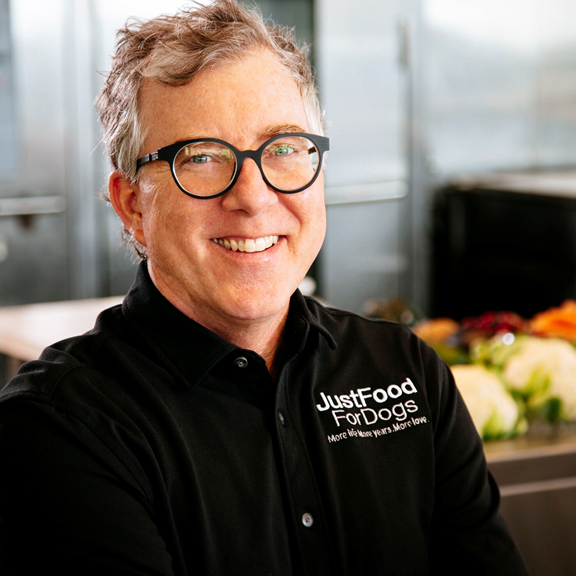 When today's guest, Shawn Buckley, went to his local pet store to pick up his dogs favorite chicken kibble, only to find it was sold out, he opted for the lamb kibble instead. Upon checkout he noticed they were the same price, which he thought was odd. As he looked at the ingredients and did more research, he was shocked to learn what he was actually feeding his dog.  And so it began…
Shawn Buckley is the Founder of JustFoodForDogs, the dog and cat food brand that has disrupted the $30.5 billion pet food industry.  They are the first pet food brand to create fresh food for pets from human grade, USDA human certified ingredients, in open-to-the-public kitchens, and the only brand on the market proven healthy by multiple independent university studies.  JustFoodForDogs has a team of in-house veterinarians and nutritionists that formulate the meals utilizing only fresh, whole food ingredients USDA/FDA certified for human consumption, in recipes nutritionally balanced for dogs as well as cats.
When they launched in 2010, they started a movement that continues to grow today. The company, now serves more than 50 million fresh meals annually.  Today, JustFoodForDogs has nine of its signature kitchens open to the public in CA, NY and WA with another under construction in Chicago, as well as more than 200 of its unique Pantries.  In July 2018,  JustFoodForDogs  signed a deal to build kitchens and pantries inside hundreds of Petco stores nationwide along with offering the company's products on the Petco website.
On this episode, I sync up with Shawn about where it all began, the inspiration for the company, how he the built a team of incredible executives, veterinarians, and nutritionists. We talk about the workouts that fuel Shawn for success, the future of JustFoodForDogs and more.
CONNECT
JustFoodForDogs on Instagram @justfoodfordogs
MarniOnTheMove Instagram, Facebook, or LinkedIn
Marni Salup on Instagram @MarniSalup
Sign up for our newsletter, The Download for Marni on the Move updates, exclusive offers, invites to events, and exciting news! Tell us what you love about the show via email [email protected].
SHOP MOTM OFFERS
Mademoiselle Provence is offering Marni on the Move listeners 20% off with code MOTM. Head over to their website and start shopping!
Mad Ritual CBD Balm has changed our sports and fitness recovery game in a big way!  Get ready to recover like a rebel with these awesome high quality CBD infused products!  Shop with our code marnionthemove for 15% off your purchase