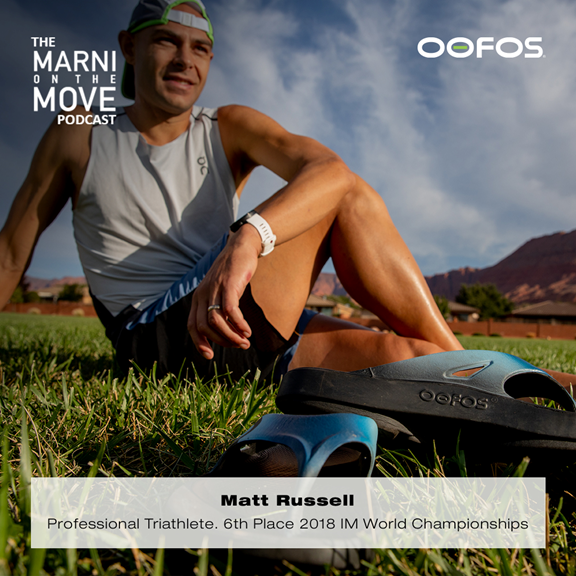 Enjoy this special mini-series in partnership with active recovery shoe brand, OOFOS.  In three inspiring and unique conversations, we will be highlighting OOFOS brand ambassadors from the worlds of dance, triathlon and wellness.
Today I sync up with globally renowned, American Professional Triathlete, the incredible Matt Russell.  Matt got his start in professional triathlon back in 2011 but in 2017 at the Ironman World Championship in Kona, Matt had a life changing accident that altered the course of his life forever, when he was hit by a van while racing at 35mph on the bike course.  After surviving this devastating accident, Matt was undeterred from racing, he went back the following year to compete in Ironman World Championships coming in 6th place, and he continues to compete today.  This conversation is all about overcoming obstacles, having faith, believing, and having positive attitude in the face of adversity.  We also talk triathlon, health, nutrition, diet and mediation and how OOFOS Footwear has played a huge role in Matt's journey back to racing, training, and everyday movement.
OOFOS is the global leader in recovery footwear, founded by a team of industry veterans looking to help runners and fitness enthusiasts recover better from their workouts. Made with revolutionary OOfoam™ technology, OOFOS are designed to absorb 37% more impact than traditional footwear, so your body doesn't have to – helping you recover and recharge between sessions. From professional athletes to casual walkers, OOFOS footwear will make your hard-working feet and body feel better – all you have to do is feel the OO.  Now, back to our guest, Matt Russell.
On this episode, Matt shares the terrifying details of his 2017 accident, he talks about his recent health issues and recurring seizures, and his new diet helping him to prevent them. We do a deep dive into racing and training, long and short term goal setting, and disconnecting from data. Plus, Matt talks about the importance of family, his new nutrition focus, and embarking upon a functional medicine approach to health. We talk about the importance of rest and recovery. Matt offers insight into his favorite tools and routines including his OOFOS for all occasions!
CONNECT
OOFOS on Instagram, Facebook, YouTube
Matt Russell on Instagram
Marni On The Move Instagram, Facebook, TikTok, LinkedIn, or YouTube
Marni Salup on Instagram and Spotify
SUBSCRIBE
Sign up for our weekly newsletter, The Download for Marni on the Move updates, exclusive offers, invites to events, and exciting news!
RIDE WITH ME 
Meet me on Zwift, Strava, or Peloton
SUPPORT THE PODCAST
Leave us a review on Apple. It's easy, scroll through the episode list on your podcast app, click on five stars, click on leave a review, and share what you love about the conversations you're listening to.
Tell your friends to what you love on social. Screenshot or share directly from our stories the episode you're listening to, tag us and the guests, and use our new Marni on the Move Giphy!
SPECIAL THANKS
Emma Steiner for help with show notes, guest research, and social media.
Skye Menna for help with guest research and outreach, social media, and public relations