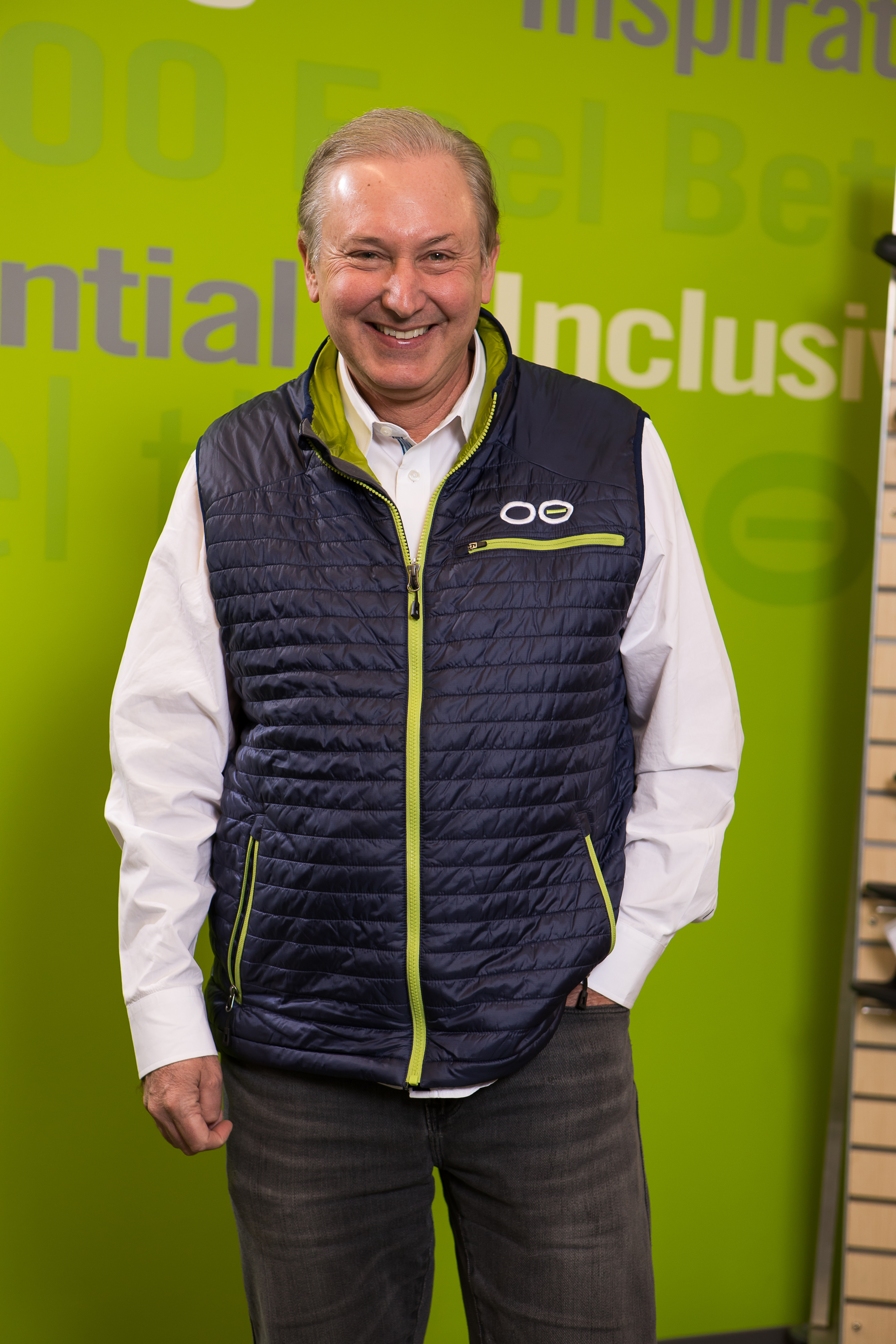 Lifelong athlete, Lou Panaccione is the CEO and co-founder of OOFOS, the revolutionary athletic recovery footwear brand with a simple mission: to help people feel better. From recovering aching feet to finding a cure for Breast Cancer, his goals and commitment to this mission are incredibly inspiring.
As a high school and collegiate distance runner, empowered with decades of experience at Nike and Reebok during the running shoe boom of the '70s and '80's, Lou knew that the market was full of athletic shoes designed to drive your workout. But, there was nothing out there for after your run or workout, when your muscles ache and you need to recover to get back out there tomorrow. It was at this moment that Lou and his friends (three co-founders at OOFOS, Paul Brown, Juan Diaz, Steve Liggett), recognized the need for footwear that could help fitness enthusiasts and athletes recover from repeated workouts on hard, man-made surfaces.  What was missing was a material that focused on absorbing impact to provide relief to the body and aid in stimulating the recovery process. This is when OOFOS began, in 2011, with a core line of sandals, and has evolved over the past 7 years to include sandals, clogs, and shoes! OOFOS has created an "OOfoam" impact-absorbing technology that aims to provide that recovery. OOfoam is a unique foam material never used in anything before that is solely developed to deliver maximum Impact Absorption to lessen the impact on the feet and body.
Lou and OOFOS are also committed to finding a cure for breast cancer. The company's brand leader and director of marketing, Duncan Finigan, was diagnosed with Metastatic Breast Cancer just a couple of years after OOFOS was started. The founders of OOFOS immediately decided to do whatever they could to make sure Duncan, and all breast cancer patients, could feel better by supporting the need for research dollars.  They developed a line of Project Pink shoes, in which $10 from each pair sold goes directly to breast cancer research at Dana-Farber Cancer Institute in Boston.  Just this year, OOFOS. upped that commitment to finding a cure faster, and have committed to donate 3% of all sales on OOFOS.Com go directly to breast cancer research, and to date, OOFOS has prodly donated over $130K and counting to Dana -Farber Cancer Institute.  In addition, Lou and Duncan participate annually in the Pan -Mass Challenge to raise funds and awareness for breast cancer and Dana Farber as well, on their ElliptiGO's.
OOFOS is pioneering recovery footwear across the globe and there is no person who shouldn't be wearing OOFOS, because everyone deserves to feel better and recover faster by Feeling the OO! They can be found in specialty retailers across the US and in 34 countries globally. Head over to www.oofos.com for additional information.
On today's episode Marni sync's up with Lou about his career in the athletic footwear industry , where OOFOS began, his brand mission and vision, his commitment to finding a cure for breast cancer and the exercise that fuels him for success.
Metioned on the Episode
Get Social +Connect
I hope you enjoy!  If you do, scroll through your podcast app, click on the "Leave a review" link, and tell us what you love about the episode and show and leave five stars of course. Also, head over to our website and sign up for our newsletter for announcements, deals, and giveaways.