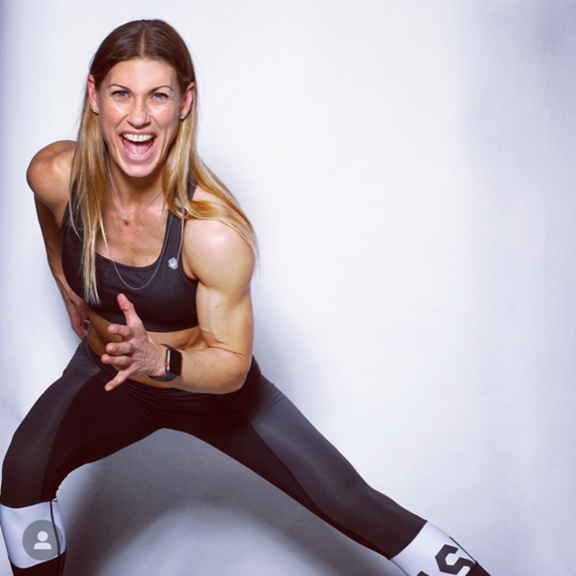 Fitness + Nutrition Coach, Hollis M. Tuttle is one of NYC's most popular fitness coaches and is a rising star when it comes to nutrition. She teaches at CityRow, on the CityRow GO app, and at Orangetheory, now offering digital classes.
Born and raised in Northern California, fitness and athletics are in her DNA. Hollis grew up in Sonoma, playing soccer and volleyball in high school, then switched to competing in triathlon while studying Nutritional Science at California Polytechnic State University. Hollis launched her fitness career in San Diego at Lululemon as well as renowned studio's Barry's Boot Camp and Orangetheory.  When her marriage brought her to NYC, Hollis immediately landing a job at Mile High Run Club, which set her NYC fitness career in motion. In addition to upping her fitness repertoire, Hollis also upped her nutrition education by getting a Level 1 Nutrition Certification with The Nutritious Life, now on Level 2.  And, she recently added Yoga to her teaching portfolio with a 200 HR YTT from Lyons Den Yoga.
Tune in to our fun, action-packed, inspiring conversation about athletics, fitness, nutrition and career.  I sync up with Hollis about where her passion for athletics and love of Fitness began, the initial career path she was on, how it has all come full circle, and the curves in between. She chats about her long career in real estate, her shift to fitness, and the lessons she learned along the way.  Hollis also talks about her challenges with IVF, the pivotal time in her relationship, and the exercise and wellness routines that fuel her for success.
I also get the scoop on her fave products for staying fit and healthy including CBD Gummies from Charlotte's Web SLEEP and RECOVERY  Shop with her VIP Code HOLLIS15 to save 15%
CONNECT
Hollis M. Tuttle on Instagram and Spotify.
MarniOnTheMove Instagram, Facebook, or LinkedIn
Marni Salup on Instagram
SHOP
Mad Ritual CBD Balm has changed our sports and fitness recovery game in a big way!  Get ready to recover like a rebel with these awesome high quality CBD infused products!  Shop with our code marnionthemove for 15% off your purchase
Head over to our SHOP page for additional offers from Marni on the Move partners, sponsors, and guests including Navitas Organics, Sun Potion, Roka and more.
SUBSCRIBE
Sign up for our monthly newsletter, The Download for Marni on the Move updates, exclusive offers, invites to events, and exciting news!
Check out past editions: January 2020, November 2019. August 2019  December 2018 November 2018
SHARE
Leave us a review on Apple. It's easy, scroll through the episode list on your podcast app, click on five stars, click on leave a review, and share what you love about the conversations you're listening to.
Tell your friends to what you love on social. Use our new Marni on the Move GIF in your Instagram Stories. Screenshot or share directly from our stories the episode you're listening to, tag us and the guests, and add our GIF.
#DOWHATMOVESYOU #GETMOVING #MARNIONTHEMOVE