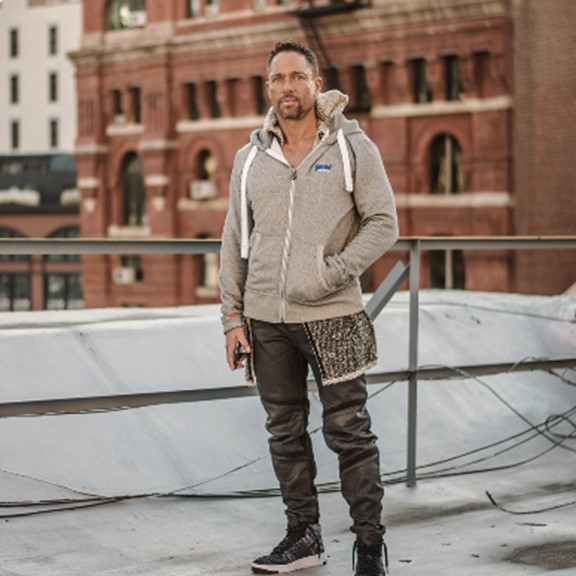 Marni sync's up with fitness industry visionary and pioneer, former Military Special Forces PTI and Founder of Switch Playground, Steve Uria.
Switch Playground is a popular fitness studio that recently opened its second NYC location, originally from Cape Town, South Africa.  Switch is a total body, sweat drenching group workout with a philosophy that extends beyond just challenging one's body and is designed to activate the mind and fuel the soul.
Over the past three decades, Steve's innovative classes and programs have revolutionized the fitness industry, including the very first Bootcamp.
His roots in South Africa's Special Forces Military training provided him the foundation to push beyond preconceived limits, and pursue personal empowerment – a philosophy he continually practices and a passion he inspires in others.
Whether training the many beginners who come to his class, or the professional athletes he has worked with –Oscar de la Hoya, Jamal Lewis, and Charles Barkley, Steve's mission is simple: to bring out the very best in each client, having them leave feeling stronger and better, empowering them for success!
You will be inspired, moved and certainly feel empowered from today's episode as Steve shares his philosophy on training, nutrition, life and most importantly his family. We sync up about his journey thus far, building a brand and studio in NYC and he shares his 14 year old son's heartwarming transition story and how he, as a parent, learned about pride, strength and confidence on a whole new level.
Sign up for class at Switch Playground Online
www.switchplaygroundusa.com
Follow Switch Playground On Social
@switchplayground
Follow Marni on the Move
www.marnionthemove.com
Instagram + Facebook
@marnionthemove
Twitter
@marnisalup
Your written reviews are inspiring and helpful as we bring new and interesting guests. If you enjoy the podcast please write a review on iTunes, Stitcher, GooglePlay, Android or through our website Www.MarniOnTheMove.com
Any questions, guest ideas, or feedback is welcome please email [email protected]. Sign up for our newsletter to get new episode announcements, events, deals and giveaways here at www.marnionthemove.com