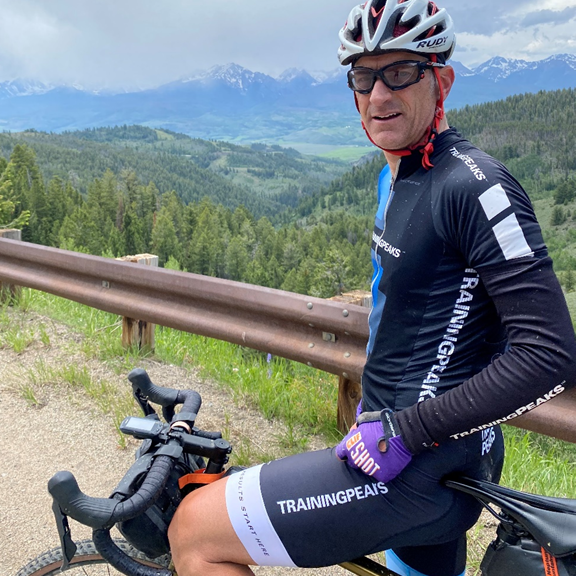 #FlashbackFriday to MOTM Episode 117, #MarniOnTheMove
Dirk Friel is the U.S. Ski Mountaineering 2020 Masters Champ. He is a former pro cyclist and has raced the classics such as Het Volk and stage races such as the Tour Du Pont and the Tour of Malaysia. Dirk has top-ten placings in both the U.S. pro road and criterium championships. He is also a sought after cycling coach, and Co-Founder of TrainingPeaks, the ultimate training tool and digital platform for athletes and coaches to plan their training, set goals, measure and track data and progress. It's compatible with over 100 fitness apps and devices. Whether you are an experienced athlete using your favorite app to record workouts like you Garmin, Apple watch, Zwift, Strava or you are a newbie looking to try something new, all of your workouts are uploaded to Training Peaks for you to view, manage, and analyze.
I sync up with Dirk on how TrainingPeaks began, what inspired the company's proprietary training metrics, scientific tools and methods that have become the industry standard like TSS®, Training Stress Score®, IF®, Intensity Factor®, NP®, Normalized Power® and VirtualCoach®. I get an inside look at how TrainingPeaks has revolutionized the way that coaches and athletes track, analyze and plan endurance training.
Dirk shares where his journey into athletics, pro-cycling, and coaching began.  He offers some great cycling tips and advice, new training goal ideas for COVID Times, and of course we talk mindset and motivation.  Going from indoor to outdoor cycling and technical things you need to know, Power VS Aero Position on the Bike, Virtual Bike Fittings , Shifting Gears with training and goals, Seasonality of our Bodies
We talk about TrainingPeaks podcast, Coach Cast, which Dirk is currently hosting for Season 2. Dirk tells me about the sport that is currently fueling him for success, Ski Mountaineering, for which he is now the U.S. National Masters Champ, as of 2020, which he earned in early March at Aspen Power of Four.
CONNECT
TrainingPeaks  on  Instagram
MarniOnTheMove Instagram, Facebook, or LinkedIn
Marni Salup on Instagram
SHOP
TrainingPeaks is offering Marni on the Move listeners 30 days of free Premium. Use our code: Marnionthemove on their website, www.trainingpeaks.com.
Mad Ritual CBD Balm has changed our sports and fitness recovery game in a big way!  Get ready to recover like a rebel with these awesome high quality CBD infused products!  Shop with our code marnionthemove for 15% off your purchase.
Head over to our SHOP page for additional offers from Marni on the Move partners, sponsors, and guests including Navitas Organics,l CBD balm, Sun Potion,and more.
SUBSCRIBE
Sign up for our weekly newsletter, The Download for Marni on the Move updates, exclusive offers, invites to events, and exciting news!
Check out past editions: January 2020, November 2019. August 2019  December 2018 November 2018
SHARE
Leave us a review on Apple. It's easy, scroll through the episode list on your podcast app, click on five stars, click on leave a review, and share what you love about the conversations you're listening to.
Tell your friends to what you love on social. Use our new Marni on the Move GIF in your Instagram Stories. Screenshot or share directly from our stories the episode you're listening to, tag us and the guests, and add our GIF.
#DOWHATMOVESYOU #GETMOVING #MARNIONTHEMOVE