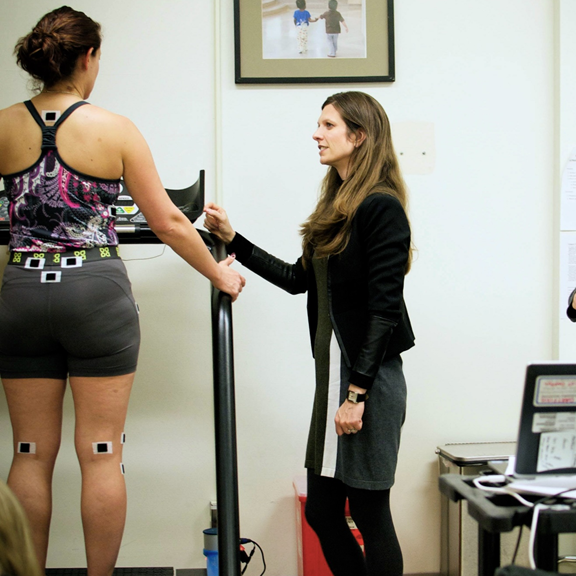 Colleen Brough, PT, DPT, MS is the Director and Founder of Columbia RunLab, a premier running performance lab offering a highly-specialized running analysis experience for Olympic, elite, competitive, and recreational teams and runners.  Columbia RunLab offers state-of-the-art, in-depth evaluation and education for runners who want to optimize their performance, help prevent and manage injuries.  Originally from the New York City area, Colleen is a lifelong athlete and avid runner and has  been an active member of New York Road Runners and Front Runners New York.
Dr. Brough is an Assistant Professor of Rehabilitation and Regenerative Medicine at CUIMC in Columbia University's Programs in Physical Therapy . She is an orthopedic specialist certified by the American Board of Physical Therapy Specialists with over 15 years of clinical and teaching experience.  She teaches Applied Physiology and lectures on Orthopedics in the Columbia University Doctoral Program in Physical Therapy.
On this episode, I sync up with Colleen about where her journey into physical therapy began, the pivotal moment that shaped her career, the path that led her to running, and the inspiration behind Columbia RunLab. We talk about her strategies for injury prevention and boosting run performance, her philosophy around rehabilitating runners while keeping them moving, the mechanical hallmarks of runners that are prone to injury, and do a deep dive into foot striking + ground contact angles, knee flexion and overstriding. She offers insight on DIY at home running analysis tactics that are easy to follow, how you can recognize your mileage and pace tipping point, discover the mechanical issues that may be driving your injury, and a few ideas on how you can  optimize your running performance.
Columbia RunLab prides itself on student development and community outreach as part of its program. They work with organizations that support restricted access, underserved and special-needs running groups throughout the community to provide this clinic experience free of charge. Students from the Columbia University Irving Medical Center Doctor of Physical Therapy Program are rigorously selected as part of an elective class for the opportunity to support Columbia RunLab. They are a faculty practice of the graduate Programs in Physical Therapy in the Department of Rehabilitation and Regenerative Medicine at Columbia University Irving Medical Center.
CONNECT
Columbia RunLab: [email protected], or call 212-342-3287.
Colleen Brough, PT, DPT, MS on Instagram
MarniOnTheMove Instagram, Facebook, or LinkedIn
Marni Salup on Instagram @MarniSalup
SHOP
Mad Ritual CBD Balm has changed our sports and fitness recovery game in a big way!  Get ready to recover like a rebel with these awesome high quality CBD infused products!  Shop with our code marnionthemove for 15% off your purchase
Head over to our SHOP page for additional offers from Marni on the Move partners, sponsors, and guests including Amrita Foods, Mad Ritual CBD balm, Navitas Organics, Sun Potion,and more.
SUBSCRIBE
Sign up for our monthly newsletter, The Download for Marni on the Move updates, exclusive offers, invites to events, and exciting news!
Check out past editions: January 2020, November 2019. August 2019  December 2018 November 2018
SHARE
Leave us a review on Apple. It's easy, scroll through the episode list on your podcast app, click on five stars, click on leave a review, and share what you love about the conversations you're listening to.
Tell your friends to what you love on social. Use our new Marni on the Move GIF in your Instagram Stories. Screenshot or share directly from our stories the episode you're listening to, tag us and the guests, and add our GIF.
#DOWHATMOVESYOU #GETMOVING #MARNIONTHEMOVE