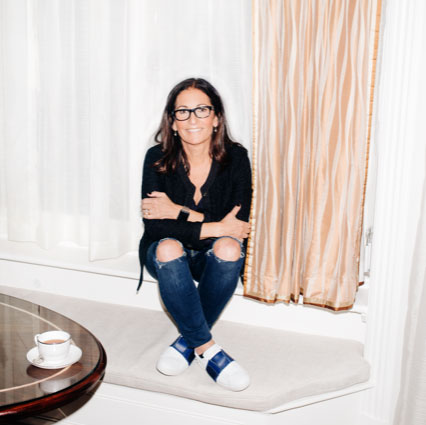 Bobbi Brown is a world renowned makeup artist, a bestselling author, a sought after speaker, and serial entrepreneur. In 1991 Bobbi Brown, changed the face of the beauty industry forever with the launch of her paradigm shifting namesake cosmetic company, Bobbi Brown Essentials, where she revolutionized the makeup landscape and empowered women around the world with her line of cosmetics designed to highlight a woman's natural beauty. In 1995 Bobbi Brown Cosmetics was acquired by Estee Lauder Companies, where Bobbi served as Chief Creative Officer, until 2016. What began with 10 lipsticks evolved into a global beauty empire and billion dollar brand.
I had the good fortune to be one of her first interns, watched her build the company, and have been inspired ever since! Today I sync up with Bobbi and discuss her exciting new venture, health and wellness lifestyle brand, Beauty Evolution. The brand includes a line of lifestyle inspired wellness products, Evolution 18; the editorial content platform JustBobbi.com; a podcast, Long Story Short, The George Hotel-a 32 room design inspired boutique hotel in Monclair, New Jersey,  and a photo and recording studio, 18 Label Studios founded in partnership with, her husband, Steven Plofker. We also talk about where it all began,  and the exercise and workouts that fuel Bobbi for success from Soul Cycle and Yoga to her new Peloton Bike and personal trainer.
We talk about it all!
Please head over to our website, marnionthemove.com and sign up for our newsletter to learn about upcoming events, deals and giveaways. Leave us a five star review on your listening platform if you like what you hear. Follow us on instagram and facebook @marnionthemove.
Sync up with today's guest online at  www.justbobbi.com, Evolution 18, and The George On Instagram at @bbportfolio, @justbobbibrown, and @thegeorgemontclair
Get ready to be inspired!