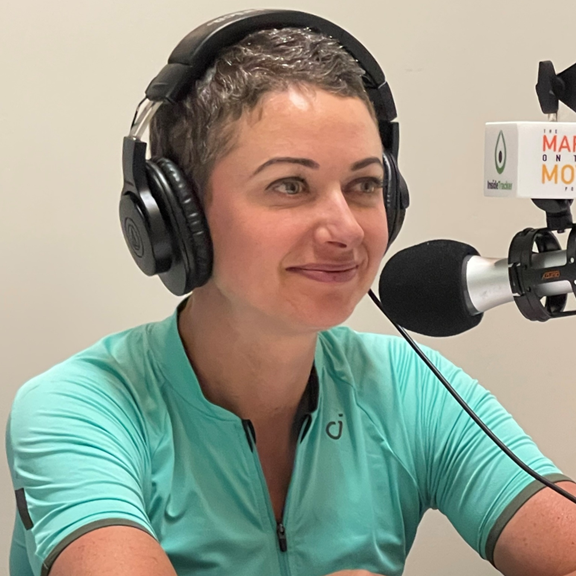 Victoria Brumfield is the Interim CEO of USA Triathlon, the National Governing Body for triathlon, as well as duathlon, aquathlon, aquabike, winter triathlon, off-road triathlon and paratriathlon in the United States. Founded in 1982, USA Triathlon sanctions more than 4,300 events and connects with more than 400,000 members each year, making it the largest multisport organization in the world. In addition to its work at the grassroots level with athletes, coaches, and race directors — as well as the USA Triathlon Foundation — USA Triathlon provides leadership and support to elite athletes competing at international events, including World Triathlon World Championships, Pan American Games and the Olympic and Paralympic Games.
Victoria and I caught up LIVE at The Marni On The Move podcast pop up at IRONMAN World Chamionships in St. George, Utah back in May, when she was Chief of Staff and Chief of Business Development for USA Triathlon. Since then she is in this new role, which is super exciting, so I gave her a buzz last week to get up to speed.  Beyond her top leadership role at USA Triathlon and impressive career in the world of endurance sports, Victoria is an incredible endurance athlete and does it all road, gravel and MTB cycling, triathlon, running, and so much more. We met years ago in NYC when she had just graduated with her MBA from NYU, was working in the world of endurance sports, and  racing as an amateur cyclist, she truly walks the walk! Victoria and I sync up about the role of USA Triathlon in the world of endurance sports, the growth trajectory they are predicting for 2023,  how USAT  is creating opportunities for all kinds of athletes-newbies and veterans to dial in to the sport, and of course, we talk about all of the races Victoria has on her schedule and the training she does to stay fit for these events.
MENTIONED
Tour De France Femmes Avec Zwift|Peloton|Unbound Gravel|Leadville Trail 100 MTB| Specialized |Ventum|NYCC|Anne Marie Miller| NYC Radical Media Racing & Evelyn Stevens|TREK
CONNECT
USA Triathlon on Instagram
Marni On The Move Instagram, Facebook, TikTok, LinkedIn, or YouTube
Marni Salup on Instagram and Spotify
OFFERS
InsideTracker: Get 20% percent off today at InsideTracker.com/marnionthemove
SUPPORT THE PODCAST
Leave us a review on Apple. It's easy, scroll through the episode list on your podcast app, click on five stars, click on leave a review, and share what you love about the conversations you're listening to. Tell your friends to what you love on social. Screenshot or share directly from our stories the episode you're listening to, tag us and the guests, and use our new Marni on the Move Giphy!
SUBSCRIBE TO OUR NEWSLETTER
Sign up for our weekly newsletter, The Download for Marni on the Move updates, exclusive offers, invites to events, and exciting news.