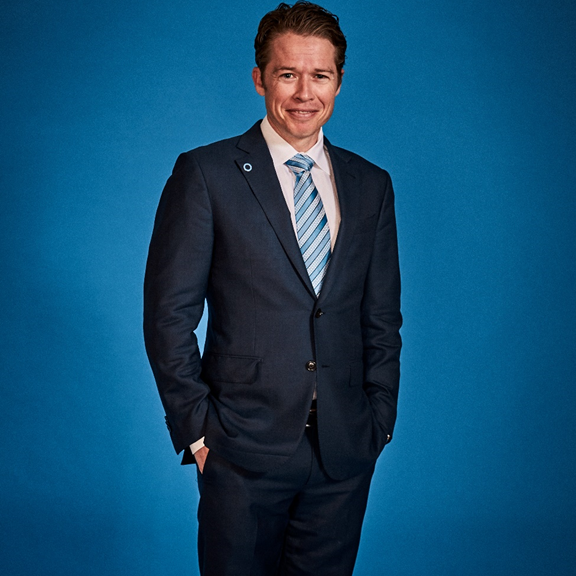 Phil Southerland is the CEO and Co-Founder of Team Novo Nordisk, the first all-diabetic cycling team, and the CEO and Founder of Supersapiens, the groundbreaking continuous glucose monitoring system allowing non-diabetic athletes to purchase continuous glucose monitoring technology and gain insights into how glucose and fuel impact their bodies in real time. Athletes discover which glucose sources provide stable and sustainable energy, understand key glucose performance zones, maintain peak performance, and fine tune their fueling strategies, all through the company's very cool app and analytics.
Inspired by his own personal experience, Phil was diagnosed with Type 1 Diabetes when he was just seven months old, but his family was determined for him to live a normal life. After growing up playing sports and falling in love with cycling, Phil realized glucose monitoring wasn't only necessary for people diagnosed with diabetes—it could be game changing for everyone, especially athletes.
On this episode of Marni on the Move, Phil and I sync up about his passion for cycling, and how he turned his love into a platform for diabetes awareness. He shares his inspiration for Team Novo Nordisk, and the motivation behind starting Supersapiens—the ultimate tool for helping athletes fuel optimally.  Phil and I chat about the science behind glucose monitoring, and the breakthrough potential Supersapiens has for powering athletes, and everyday people, to success. He dials me into how it all works from application of the Abbot Libre Sense  Biosensor to the key data we should be looking for as athletes. Phil also lets me in on the exercise and wellness routines that fuel him for success.
IN THE NEWS
Supersapiens is the Title Sponsor for IRONMAN Kona 2021 and 2022, and sponsors of IRONMAN Europe.
The product is used by leading pro cyclists including members of the INEOS Grenadiers, Jumbo-Visima, and Canyon//SRAM pro tour teams, several IRONMAN, Olympic and Professional Triathletes and Runners.
Supersapiens recently closed $13. 5 Million in Early Stage Funding
MENTIONS
Zwift Cycling
Wahoo
Maurten 
CONNECT
Supersapiens on  Instagram, Facebook, and YouTube
Team Novo Nordisk on Instagram and Facebook
Marni On The Move Instagram, Facebook, or YouTube
Marni Salup on Instagram and Spotify
SUBSCRIBE
Sign up for our weekly newsletter, The Download for Marni on the Move updates, exclusive offers, invites to events, and exciting news!
TRAIN
Meet me on Zwift, Strava, or Peloton
OFFERS
Take control of your health and wellness journey with InsideTracker, the ultra-personalized nutrition platform that analyzes your blood, DNA, and lifestyle to help you optimize your body from the inside out. Transform your body's data into meaningful insights and a customized action plan of the science-backed nutrition recommendations you need to optimize your health!  Get twenty percent off today at InsideTracker with our code THANKYOUMOTM.
Lifepro is offering MOTM listeners 10% off products with the code MOVE10.
Art of Tea is 0ffering MOTM listeners 15% off (excluding gift cards, Tea of the month, subscriptions, and any wholesale orders) through July 2021. Use this code at checkout MARNIONTHEMOVE15
Head over to our SHOP page for additional offers from Marni on the Move partners, sponsors, and guests including Navitas Organics, Sun Potion, Amrita Health Foods and more.
SHARE
Leave us a review on Apple. It's easy, scroll through the episode list on your podcast app, click on five stars, click on leave a review, and share what you love about the conversations you're listening to.
Tell your friends to what you love on social. Screenshot or share directly from our stories the episode you're listening to, tag us and the guests, and use our new Marni on the Move Giphy!
SPECIAL THANKS
Emma Steiner for help with show notes, guest research, and social media.
Skye Menna for help with guest research and outreach, social media, and public relations