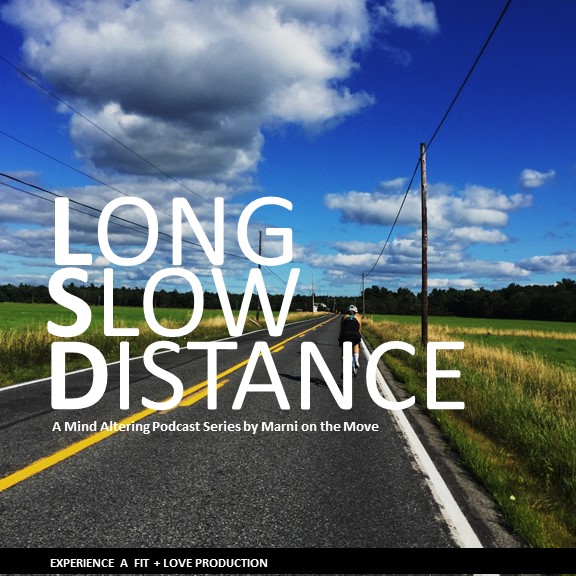 Long Slow Distance is a new seasonal Marni on the Move podcast series purely focused on endurance sports. On each episode, I will speak with athletes, coaches, and industry experts offering a deep dive into training and racing, with insight and advice, compelling stories, event preps and debriefs and of course the mind altering concept of Long Slow Distance.  The series is inspired by my training for the 2019 TCS NYC Marathon, born from a decade of training for running and triathlon events, paralleled with my love/hate relationship with doing long slow distance and the desire to be fast.  I will be conversing with runners, triathletes, swimmers, cyclists, climbers, nutritionists, physical therapists and more.   If you listen to Marni on the Move on the regular, you know I often get into to the weeds with Marni on the Move endurance athlete guests about their training and racing. Now I am hosting this dedicated seasonal series on all things, endurance sports.   We have an exciting line up of guests for season one:
The first five episodes are going up October 20-27, so get ready. And the last two episodes, big surprise!
Long Slow Distance is fueled by a few of my favorite brands, the ones I use every day for training, racing and life including Mad Ritual, On, Roka, Nunn Hydration, SaltStick, and Navitas Organics.
PARTNERS
Mad Ritual
Mad Ritual has changed my recovery game in a big way!  Get ready to recover like a rebel with these awesome high quality CBD infused products!  Their CBD Balm is off the charts amazing! And I'm not the only one that thinks so, Mad Ritual has 100+ five star reviews. The balms have five simple organic ingredients coconut oil, shea butter, olive oil, plant wax, CBD and different blends of essential oils. I prefer the eucalyptus and peppermint. They also offer a terrific CBD infused totally recovery supplement. Not just for athletes, the products are formulated to ease all of the aches and pains that come along with being an active human.  So, if you're sore from life, Mad Ritual gets it. Founded by women, athletes, and active entrepreneurs, they are committed to helping active folks bring more balance to their lives.
On
On running shoes offer runners the perfect mix of design and function, Running in On is a game changing experience thanks to their proprietary Cloudtec ® Technology, you really do feel like you are running on clouds, whatever your shoe preference is.  I have several pairs as I am logging lots of miles for the TCS NYC Marathon and switch out my sneakers often depending on the distance.   Side note, I have a few pairs that I use for fashion and every day.  Founder David Allemann was a guest on the podcast, tune in and find out more.  Shop theor website at https://www.on-running.com.
Roka
I've been wearing Roka wetsuits for triathlon for the past five years and they have been a terrific for my swimming speed and comfortability.  When I learned they were expanding beyond wetsuits and goggles and introducing eyewear, I immediately got a pair of their sunglasses, which I have been wearing for the past four months. No matter how hard I try, I can't shake them off my head, which is great since I am always on the move.  All Roka products are high tech, performance focused, with functional design. Behind the brand, are founders and athletes designing product for athletes, like themselves. Learn more on the podcast with Co-Founder Kurt Spenser. Shop with our code MARNI for 20% off at https://www.roka.com. This is not applicable for optical use.
SaltStick Caps, Buffered Electrolyte Salts
If you're an endurance athlete, you know how important it is to replace electrolytes and salt as you sweat for hours on end.  SaltStick Caps are my go-to for training and racing.  They reduce heat stress, muscle cramping, and maintain electrolyte levels. SaltStick offers the ONLY electrolyte capsules, liquid add-ins and chewable tablets that were formulated to closely resemble the electrolyte profile lost during activity: sodium, potassium, calcium and magnesium. Use the code marni20 for a 20% discount at checkout when you visit shopsaltstick.com. Please note this is only available to people with a U.S. mailing address and will expire on 12/31/2019.
Nuun Hydration
My other go-to fueling and hydration resource is Nuun Hydration. I simply add their hydration tablets to my handheld water bottle. It tastes great, there are lots of amazing flavors. I'm currently obsessed with their Watermelon Sport Hydration and The Blackberry Vanilla REST.  Nuun began as the first company to separate electrolyte replacement from carbohydrates. It is a healthy, hydrating beverage without all of the extra sugar and additives. They have taken the brand beyond sports and endurance hydration with offerings for with immunity and Vitamins. Nuun Hydration uses clean ingredients that are non-GMO, gluten free and vegan.
Navitas Organics
For nearly a decade, I have been using these plant based superfood ingredients, adding them to smoothies, including their all in one organic essential superfood blends with proteins, greens, probiotics and enzymes for post workout recovery or simply for breakfast or an afternoon snack. I also add their Maca for Adaptogens, Camu Camu for extra Vitamin C, and Cacao.  Navitas Organics offers an incredible line of CBD infused ready –to-drink wellness shots-restore, calm, focus and bliss and a delicious line of Superfood Lattes. Head over to their website and stock up. Tune in and download the Marni on the Move podcast episode with Navitas Organics Founder and CEO, Zack Adelman to hear more.  Shop https://navitasorganics.com  and get 25% off your first purchase with the code MOVE25 upon checkout.
Long Slow Distance is a Marni on the Move series and a FIT + LOVE Media Production