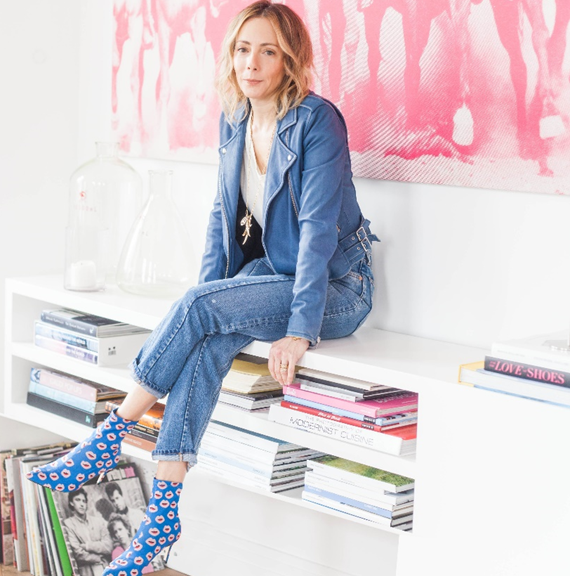 Pamela Schein Murphy is the Founder and Creative Director of The Select 7, a beautifully photographed and curated exploration into the worlds of motivation, food, beauty + wellness, travel, fashion, home design and social media by some of the most interesting people out there, from a variety of industries. The Select 7 unlocks the worlds of today's top tastemakers, acting as an exchange hub for people who want both the aspirational and the totally obtainable to share their finds, recommendations and ideas.
Native New Yorker, Pamela Schein Murphy, is no stranger to the world of media with early roots at iconic magazines and media brands like Fitness, Mirabella, Elle, and Glamour.
After successfully working her way up the masthead, Murphy created her first independent venture, a national lifestyle magazine called Madison. She went on to add Film Producer (with actor Ed Burns) and Marketing Director (of her husband, Chef Marc Murphy's restaurant group) to her resume, and also ran The R.E.S.T. Initiative, a non-profit organization that brought massage therapies directly into chemotherapy treatment rooms, which she started after completing her own battle with breast cancer, 12 years ago.
Pamela and I  sync up about where it all began, how her teenage daughter got the ball rolling for The Select 7, how she has been navigating life and business during COVID times, and of course, we chat about all of the fitness classes and routines that have powered her for success along the way.
CONNECT
The Select 7 on Instagram
Pamela Schein Murphy on Instagram
Marni On The Move Instagram, Facebook, or LinkedIn
Marni Salup on Instagram
OFFERS
TrainingPeaks is offering Marni on the Move listeners 30 days of free Premium. Use our code: Marnionthemove on their website, www.trainingpeaks.com.
Mad Ritual CBD Balm has changed our sports and fitness recovery game in a big way!  Get ready to recover like a rebel with these awesome high quality CBD infused products!  Shop with our code marnionthemove for 15% off your purchase.
SHOP
Head over to our SHOP page for additional offers from Marni on the Move partners, sponsors, and guests including Navitas Organics,Sun Potion, Amrita Health Foods and more.
SUBSCRIBE
Sign up for our monthly newsletter, The Download for Marni on the Move updates, exclusive offers, invites to events, and exciting news! Check out past editions: January 2020, November 2019. August 2019  December 2018 November 2018
SHARE
Leave us a review on Apple. It's easy, scroll through the episode list on your podcast app, click on five stars, click on leave a review, and share what you love about the conversations you're listening to.
Tell your friends to what you love on social. Screenshot or share directly from our stories the episode you're listening to, tag us and the guests, and use our new Marni on the Move GIF in your Instagram stories.
#DOWHATMOVESYOU #GETMOVING #MARNIONTHEMOVE