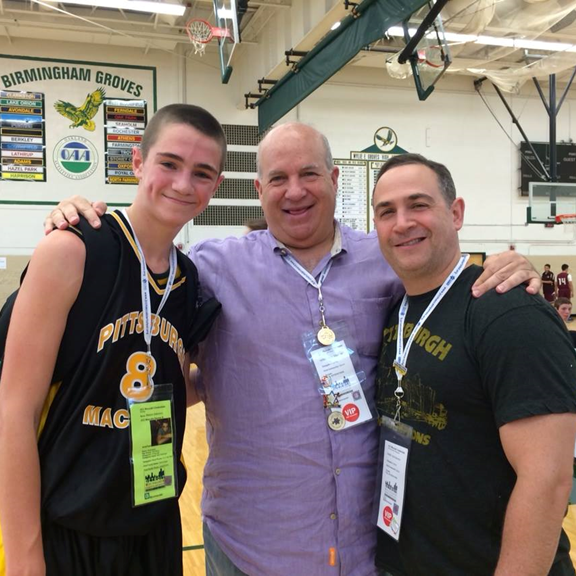 Lenny Silberman is the CEO and Founder of Lost Tribe ESports. He is the former Vice President of Program Services-Continental Director of the JCC Maccabi Games, CEO of Henry Kaufman Camps and Director Emma Kaufman Camp. Lenny's work and accomplishments have been game changing in the Jewish Community worldwide, for kids, teens, and families.  Lenny has built a lifelong career around coaching, sports and summer camp. He has created transformative programs that engage multiple generations, advance personal growth and deepen community involvement, particularly nurturing positive Jewish identity in young people through sports and camp.
On today's episode. Lenny and I talk about where his career began, how he has helped tens of thousands of kids develop tools for living, for being a good person, and for understanding the importance of community, through team sports. We touch upon his famous mantras AKA Lennyisms, we talk about his game changing programs, Days of Caring and Sharing and Rachmonas Rule.  Lenny talks about his most recent career move into ESports and how his new company, Lost Tribe ESports, is uniting teens around the world in these quarantine times. Of course we discuss Lenny's personal health and fitness goals and as an avid sports fan, one of his role models and favorite baseball players, Roberto Clemente.
Lenny has devoted his career to young people and his belief in the power of sports and recreation experiences to transmit values. He is on the board and has worked tirelessly on behalf of the Israel Sports Center for the Disabled in Ramat Gan (Israel),  raised the funds to build them a fitness room. He was selected to represent the JCCs of North America as a member of the U.S. Olympic Committee. He served on the USOC for 14 years. Lenny has received recognition from the International Jewish Sports Hall of Fame, the National Jewish Sports Hall of Fame, theWestern Pennsylvania Jewish Sports Hall of Fame, and the National Council of Youth Sport
CONNECT
Lost Tribe ESports on Instagram
Lenny Silberman on LinkedIn + Facebook
MarniOnTheMove Instagram, Facebook, or LinkedIn
Marni Salup on Instagram
SHOP
Mad Ritual CBD Balm has changed our sports and fitness recovery game in a big way!  Get ready to recover like a rebel with these awesome high quality CBD infused products!  Shop with our code marnionthemove for 15% off your purchase
SUBSCRIBE
Sign up for our monthly newsletter, The Download for Marni on the Move updates, exclusive offers, invites to events, and exciting news!
Check out past editions: January 2020, November 2019. August 2019  December 2018 November 2018
SHARE
Leave us a review on Apple. It's easy, scroll through the episode list on your podcast app, click on five stars, click on leave a review, and share what you love about the conversations you're listening to.
Tell your friends to what you love on social. Use our new Marni on the Move GIF in your Instagram Stories. Screenshot or share directly from our stories the episode you're listening to, tag us and the guests, and add our GIF.
#DOWHATMOVESYOU #GETMOVING #MARNIONTHEMOVE