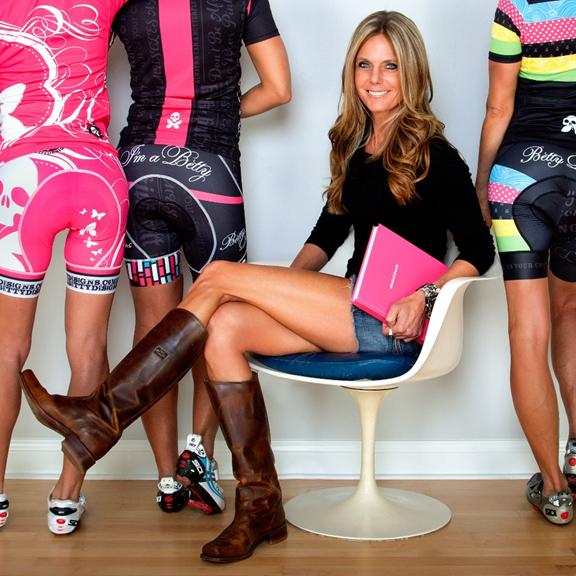 Kristin Mayer is the Founder and CEO of Betty Designs, THE coolest fashion inspired bad ass endurance sports apparel brand, disrupting race courses around the globe. The brands signature skull+ butterfly logo and runway inspired design sets it apart.  if you aren't already wearing these awesome kits for triathlon and cycling, you will be in 2021!  On today's episode, Kristin and I sync up about where it all began, her deep roots in the sport of triathlon,  and all of the other sports that are currently fueling her for success, We talk fashion, design, and the inspo behind Betty Designs many collections, ten of which came out this past year.  We talk about how COVID impacted her business, how she pivoted and is moving forward. Kristin sheds light on her new collection that launched this January 2021, BDLAB, designed with runners in mind, but all kinds of fitness and yoga class goers would love it. If you like to look good when you sweat, in great style and design! PS-and this could be THE coolest thing ever, In additions to renown collaborations with IRONMAN™ Group races, Roka, and The Challenge Family, Kristin has designed  in-game kits on Zwift. I hope you enjoy this fun conversation getting to know the uber-talented designer behind theses super-style kits on the race course!
CONNECT
The BettyStyle Podcast
Betty Designs on Vimeo
Betty Designs on Instagram + Facebook
Kristin Mayer on Instagram, Pinterst, Strava, and Athlinks!
Marni On The Move Instagram, Facebook, or LinkedIn
Marni Salup on Instagram
SUBSCRIBE
Sign up for our weekly newsletter, The Download for Marni on the Move updates, exclusive offers, invites to events, and exciting news!
OFFERS
Take control of your health and wellness journey with InsideTracker, the ultra-personalized nutrition platform that analyzes your blood, DNA, and lifestyle to help you optimize your body from the inside out. Transform your body's data into meaningful insights and a customized action plan of the science-backed nutrition recommendations you need to optimize your health!  Get twenty percent off today at InsideTracker with our code THANKYOUMOTM.
Mad Ritual CBD Balm has changed our sports and fitness recovery game in a big way!  Get ready to recover like a rebel with these awesome high quality CBD infused products!  Shop with our code marnionthemove for 15% off your purchase..
TrainingPeaks is offering Marni on the Move listeners 30 days of free Premium. Use our code: Marnionthemove on their website, www.trainingpeaks.com.
Head over to our SHOP page for additional offers from Marni on the Move partners, sponsors, and guests including Navitas Organics, Sun Potion, Amrita Health Foods and more.
SHARE
Leave us a review on Apple. It's easy, scroll through the episode list on your podcast app, click on five stars, click on leave a review, and share what you love about the conversations you're listening to.
Tell your friends to what you love on social. Screenshot or share directly from our stories the episode you're listening to, tag us and the guests, and use our new Marni on the Move Giphy!