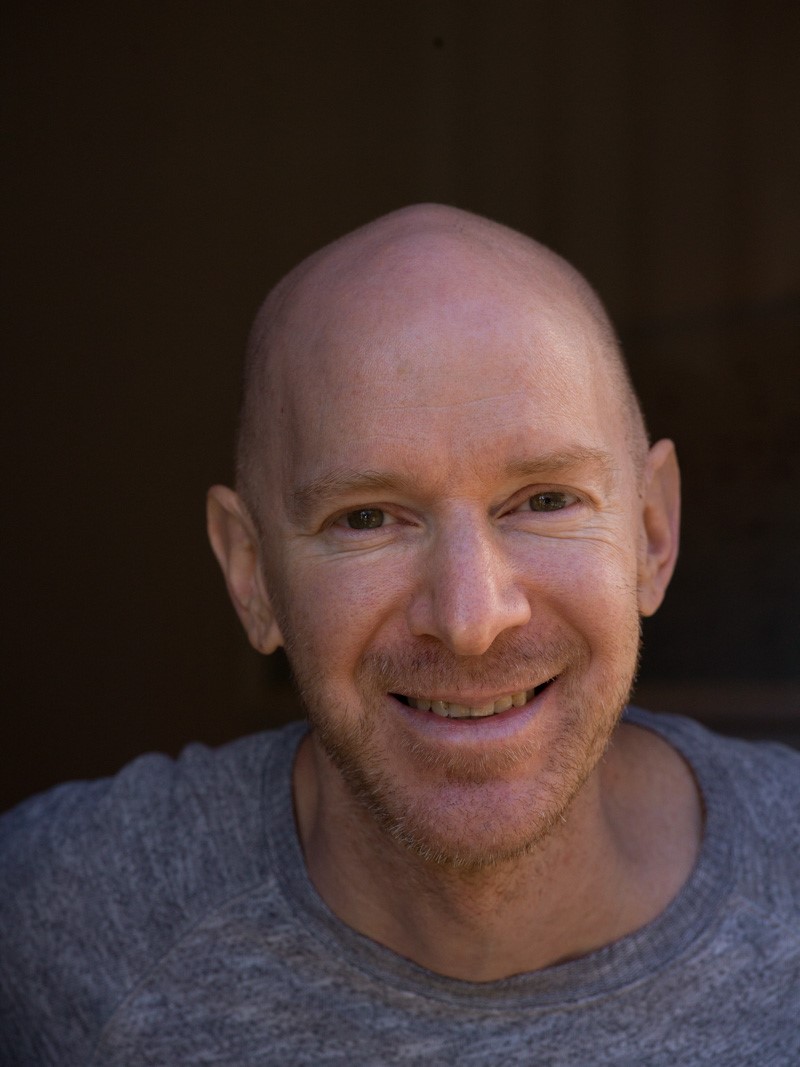 30 years ago today a NYC Greenwich Village native and Punk Rocker left his retail day job selling records at the iconic Bleecker Bobs to study yoga and pursue his teacher training degree in India. Upon his return to New York, he opened a studio that changed the NYC and Global Yoga landscape forever.
His name is Eddie Stern.
Today Eddie is a world renowned yoga teacher, highly respected thought leader, entrepreneur, author, and recently, a  mobile app innovator.
He is the co-founder of Ashtanga Yoga New York, The Brooklyn Yoga Club, and The Broome Street Temple with his wife and Yoga teacher, Jocelyn Stern. He is also Co-Founder of Namarupa Magazine with Robert Moses and teamed up with Deepak Chopra and Moby  to create his new app, The Breathing App.
Eddie began teaching yoga in 1989 at a time where there were very few yoga studios in NYC and it was not a very popular mainstream practice. Yoga catered to a culture of people that were interested in pursuing the spiritual aspects of their lives.  Not very asana or physically focused. It was no frills, glitz, or glamour. People didn't "drop in" to take a class. It was a very different world compared to today where there are tons of studios.
Eddie studied with yoga legend and Ashtanga Yoga Founder, Guru Sri K. Pattahbi Jois from 1991-2009 and brought his teachings to NYC which quickly gained notoriety amongst popular celebrities, musicians, and yogi's.  Eddie has expanded from his original one room studio to a beautiful townhouse in Clinton Hill, Brooklyn that is the home to Brooklyn Yoga Club and Ganesha Temple, a B+B for guests to immerse themselves and experience the culture, and a café with vegan, healthy snacks, teas, elixirs and coffee.
Eddie and I sync up about Yoga, Ashtanga, Ganesh, and his mission to raise awareness and funds to help save the elephants through the Knot On My Planet campaign which supports the work of The Elephant Crisis Fund.
If you want to make a donation or learn more Eddie has a wonderful blog post with additional information on the AYNY website:  http://ayny.org/category/yoga/. There are only 415,000 elephants left in the world, and they are being slaughtered at a rate of 30,000 per year. If this is allowed to continue, we could be the last generation to ever see an elephant in the wild.  Throughout 2018, Eddie will be going around the world performing Ganesh Pujas to spread the awareness of the plight of the mighty and majestic elephants, whose existence on this planet is being imperiled through poaching. While pujas are always free, they are accepting donations at the end of these special pujas, and all of the money collected will be donated to Knot On MY Planet, which supports elephant protection in Africa and the end of the ivory trade worldwide. These pujas are being performed, this year, in Moscow, Stockholm, Chengdu, London, Amsterdam, Milan, India, Buenos Aires, and Tel Aviv.
On the podcast we also mention:
Follow Eddie Stern and Brooklyn Yoga Club:
Instagram https://www.instagram.com/eddiestern/
Learn more about classes, events, new books, Eddie's blog and all kinds of fun and interesting things: www.ayny.org
Follow Marni On The Move:
Instagram @MarniOnTheMove https://www.instagram.com/marnionthemove/
Facebook @MarniOnTheMove https://www.facebook.com/marnionthemove/
Twitter @MarnionTheMove https://twitter.com/MarniSalup
Website: Www.MarniOnTheMove.com
Your written reviews are inspiring and helpful as we bring new and interesting guests. If you enjoy the podcast please write a review on iTunes, Stitcher, GooglePlay, Android or through our website Www.MarniOnTheMove.com
Any questions, guest ideas, or feedback is welcome please email [email protected]. Sign up for our newsletter to get new episode announcements, events, deals and giveaways here http://bit.ly/2ELahdn
Thanks again for tuning in!