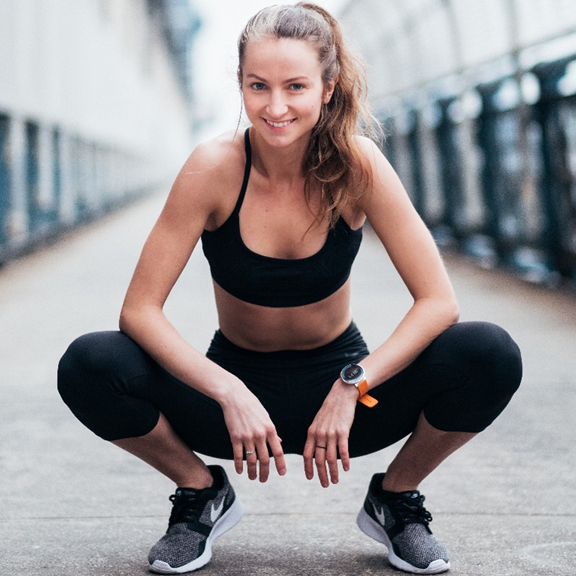 Corinne Fitzgerald is a diehard runner and a true athlete at heart! She is also a podium placing Elite Runner and Triathlete as well as a very talented Irish Step Dancer. Corinne is also the Head Run Coach at Mile High Run Club, NYC's premiere indoor treadmill running studio, where she has been teaching classes  and coaching runners for over four years, since the studio's inception, where she goes by Coach Fitz.
Corinne fell in love with running in college when she learned that it can be a lifelong sport and also a healthy outlet for so many things. Her most outstanding achievements have been in Track & Field (Main event: Steeplechase) and Cross Country. Corinne is the 2015 Duathlon Age Group National Champion. She placed fifth in the Xterra Trail World Championships that took place in November 2013 in Oahu, Hawaii, has competed on the World level in Triathlon, and just this Spring, she beat her College PR at Steeplechase in the Penn Relays with a 10:36 placing 5th in her heat and 14th overall.
It hasn't always been all wins and PRing for Corinne. In 2016, after completing the TCS NYC Marathon, she had to shut down her competitive running career and recover from a series of serious injuries, which had accumulated over her time training.  With running as her life, career, and identity, she had to reframe her mindset and power through many new challenges.
On today's episode, Corinne shares her path into running, her wins and losses, how she mentally and physically overcame major injuries, and just beat her college PR at Steepechase after taking off from the sport for two years.  We talk about setting goals within your running-whether you are a recreational runner or competing professionally; insight on race strategies, training tips and advice, and building an athletic mindset for sport and career.
I am certain Corinne's story is going to resonate with many  listeners, inspire you to stay on track and empower you with tools for success in your athletic endeavors. If you are not a runner, I think this conversation might peak your curiosity. I hope you enjoy.
Hit Us Up On Social
@CoachFitz on Instagram or Facebook
@MileHighRunClub on Instagram or Facebook
@MarniOnTheMove Instagram, Facebook, or LinkedIn
Shop our Offers, Deals, and Favorite Products + Brands
Sign up for our Newsletter, The Download for Marni on the Move updates, exclusive offers, invites to events, and exciting news!