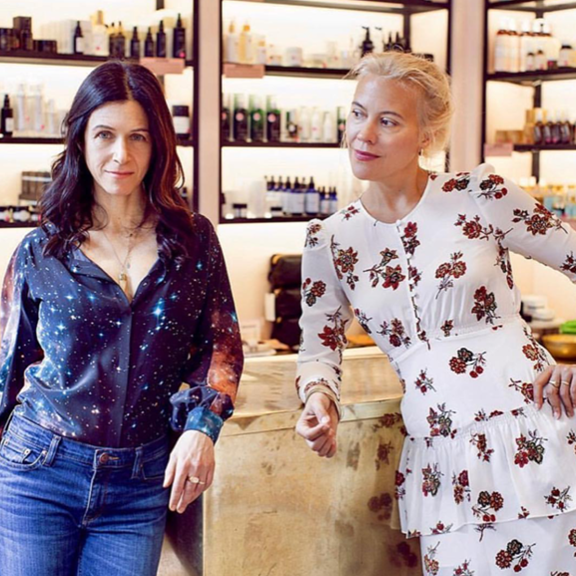 "Beauty is Wellness. Wellness is Beauty!" That's the philosophy of today's guests Cindy DiPrima Morisse and Kerrilynn Pamer, Founders of CAP Beauty, the 100% natural beauty and wellness mecca. The company launched in 2014 with an online store and educational blog. Today they have a flagship store and spa in NYC, are located at Fred Segal in Los Angeles and have a new book High Vibrational Beauty: Recipes and Rituals for Radical Self Care. 
On today's #MarniOnTheMove episode, host Marni Salup syncs up with Cindy and Kerrilynn to talk about beauty, wellness, entrepreneurship and the routines and rituals that fuel them for success!
They discuss some of the inspiring beauty and wellness rituals and routines from their book and go over easy ways to add transformational wellness products to your daily routine.  Cindy explains how to use bitters to ease digestion, which probiotics to add to the mix for gut health and why, and they talk about adaptogenic mushrooms and plants that help with energy levels, stress management, and immune system protection.  You will discover some of the great brands and products available at CAP Beauty and learn how to boost your immune system and hydrate your skin this Winter.  
Some of the products we mention include Sun Potion, The Beauty Chef, Rahua, Tata Harper, May Lindstrom, Urban Moonshine, Bathing Culture, and Cap Beauty's namesake product line. 
If you enjoy what you hear, leave us a five-star rating and review on Apple Podcasts. Email over any questions you have for Marni or our guests, we will answer them on upcoming episodes.  Email: marni[email protected].  Just Ask! Also head over to our website, marnionthemove.com and sign up for our newsletter, The Download, to learn about upcoming events, deals and giveaways. 
Connect
Listener Perks + Deals
ON
On would like to offer you the opportunity to take their sneakers for a test run for 30days! Head over to their website, www.on-running.com/marnionthemove, and usethe code TryMe upon checkout. If you don't like them, you can return them. Ihave a feeling you are going to like them. They have lots of options for allkinds of running and training. I have the Cloud Surfer's and Clouds.
Bobbi Brown
Get 10% off your first time purchase of Evolution 18 products, go to evolution18.com and type in Bobbi18
Sun Potion
Get 10% off at Sun Potion with code Marnionthemove at Sunpotion.com
#####