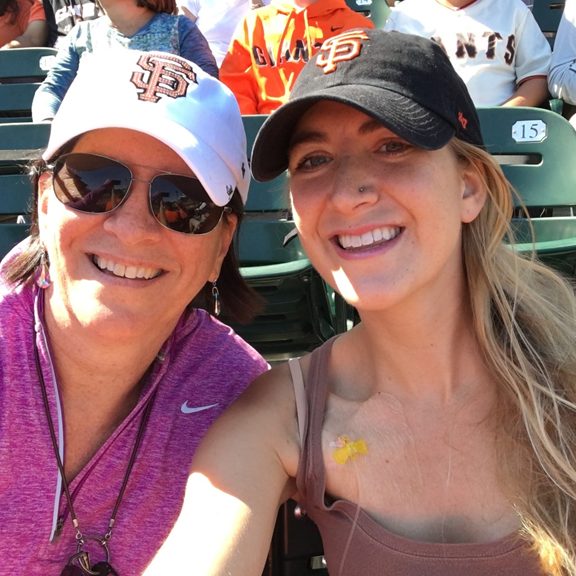 Mallory Smith lived with Cystic Fibrosis until the age of 25.  She had a passion and talent for writing and the smart sense to keep a journal and document her life from the young age of nine.  Salt in My Soul: An Unfinished Memoir is her story. Diagnosed with cystic fibrosis at the age of three, Mallory Smith grew up to be a determined, talented young woman who inspired others even as she privately raged against her illness. Despite the daily challenges of endless medical treatments and a deep understanding that she'd never lead a normal life, Mallory was determined to "live happy," a mantra she followed until her death. Mallory worked hard to make the most out of the limited time she had, graduating Phi Beta Kappa from Stanford University, becoming a cystic fibrosis advocate well-known in the CF community, and embarking on a career as a professional writer. Along the way, she cultivated countless intimate friendships and ultimately found love.
On this episode, Host Marni Salup is joined by Co- Host Lori Mazor as they sync up with Mallory's Mother, Diane Shader Smith, to discuss the incredible story of Mallory's life despite her struggle with cystic fibrosis and a rare superbug, her passion and determination for living, how surfing, volleyball and swimming powered her through many hard times, and why Mallory left instructions for Diane to publish her work posthumously.
Salt in My Soul is an inspiring portrait of a brave young woman who did not allow herself to be defined by disease. Her words offer comfort and hope to readers, even as she herself was facing death. Salt in My Soul is a beautifully crafted, intimate, and poignant tribute to a short life well lived—and a call for all of us to embrace our own lives as fully as possible.
CONNECT ON SOCIAL
Salt in My Soul on Instagram and Facebook
@MarniOnTheMove Instagram, Facebook, or LinkedIn
Shop our Offers, Deals, and Favorite Products + Brands
Sign up for our Newsletter, The Download for Marni on the Move updates, exclusive offers, invites to events, and exciting news!