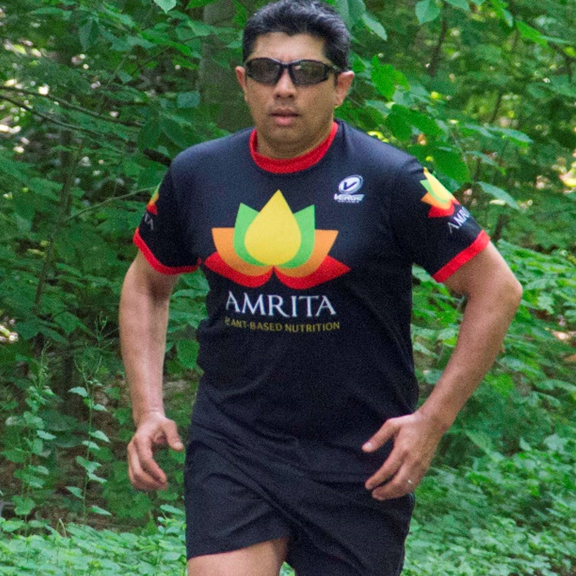 Arshad Bahl is the Founder + CEO of Amrita Foods,  the protein and energy bars that fuel my training and everyday life! His path to entrepreneurship was organic, literally and figuratively, and incredibly inspiring. He spent the first part of his career working in  corporate consulting and marketing, but when his son was diagnosed with autism and severe gastrointestinal issues at the age of two, his life and career were changed forvever. Arshad and his wife did a ton of research and immediately started their son on an aggressive gluten-free and dairy-free nutrition program. The nutritional changes helped heal his gastrointestinal issues, which allowed for better absorption of nutrition, which in turn made it easier for him to focus on other necessary therapies. Within three years, their son was in a mainstream classroom and was doing well both academically and socially.
After his son's nutritional changes and gastrointestinal recovery, Arshad became convinced that plant-based nutrition was the right approach for managing inflammation. The significance of reducing one's allergen load (such as consumption of gluten, dairy, nuts, soy, oils, preservatives, and chemical-containing non-organic foods) to help the body recover from daily stresses became apparent. Arshad became dedicated to developing snacks free of these damaging ingredients. In 2012, Amrita was officially launched.  What began as a few pop-ups starting at farmers markets got picked up by Whole Foods and today is in over 1000 doors nationwide.
Arshad is  an incredibly savvy founder and entrepreneur with a seriously awesome product. The protein and energy bars are delicious and packed with superfoods and healthy ingredients like Quinoa, Chia Seeds Dates Coconut Oil Sea Salt Maple Syrop, Cranberries, blueberries and more. They are dairy-free, gluten free, and vegan .
On today's episode, Arshad and Marni talk about where his entrepreneurial journey began, food as medicine, healthy fueling for athletics and life, and he shares some great career and business insight and wisdom on building a brand, direct to consumers sales, influencer marketing and more.
Amrita is offering Marni on the Move listeners $10 off for anyone to get started. Use the code JUMPSTART upon checkout at www.amritahealthfods.com
For our athlete listeners, if you would like to be an Anrita Ambassador and are willing to wear Amrita for racing and training, Free Kit + 25% off all year, email us and we can connect you with Arashad.marnionthemove@gmail;com.
Social Handles
@Marionthemove
I hope you enjoy the episode!