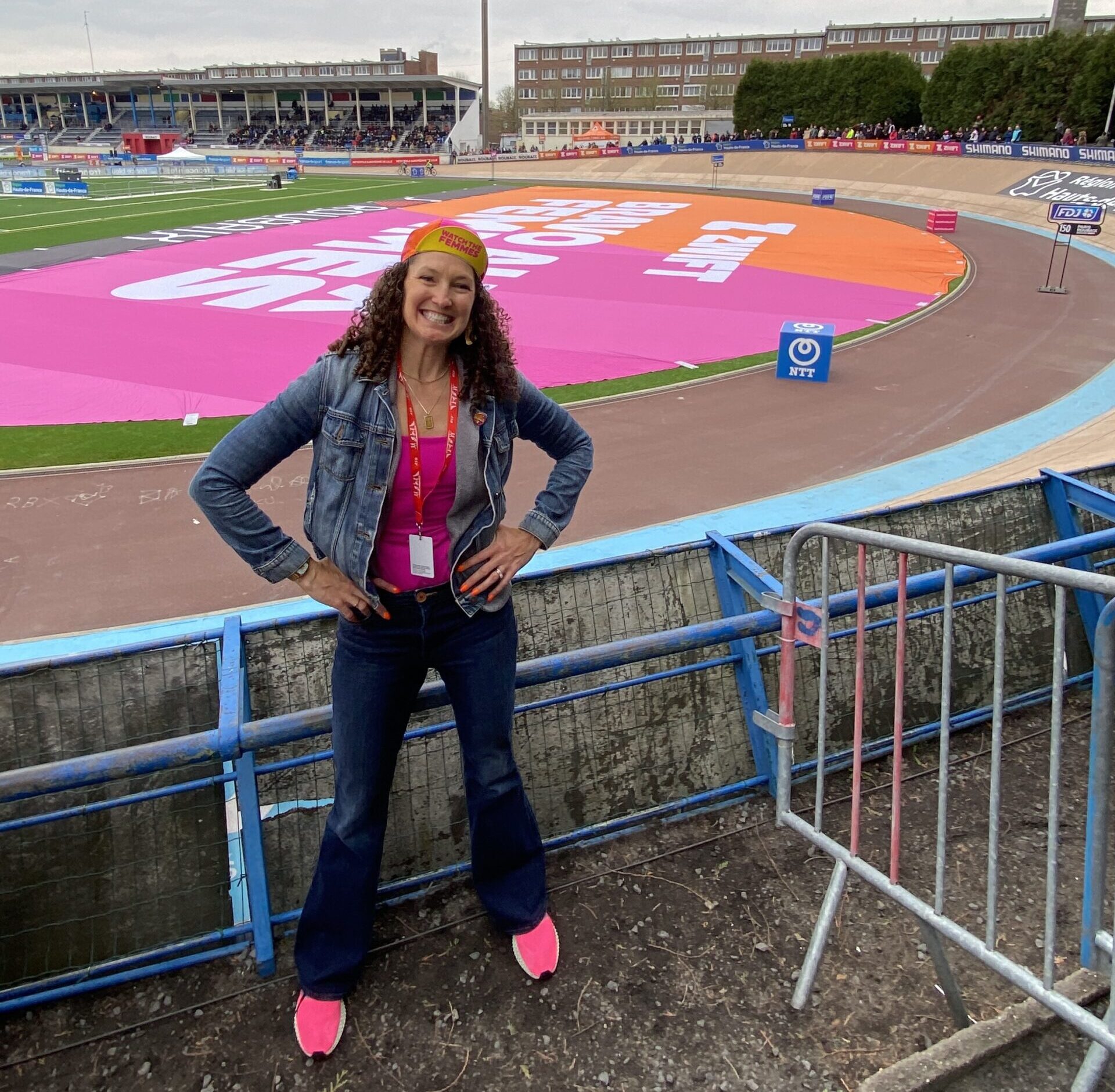 Kate Veronneau, the Director of Women's Strategy at Zwift, joins us on the podcast to bring everyone up to speed on Le Tour de France Femmes avec Zwift 2023. Kate sheds light on what's new and exciting from fun stages on the course, the teams, cyclists to watch, the jersey point system,  race travel logistics, and the cool cycling perks of her job. We also talk about the E-Sports Olympic Series and whats new on the gaming side of Zwift. We also chat about Kate's weekly cycling mileage and how shes staying fit, and what she is watching on the tele. We talk about her uber talented husband, bespoke bicycle artist, Michael Patrick Hurley aka @MPHPaint on insta, and her Great Dane Bruce-where he got his name and his fave hobbies.
Zwift it is the the global online fitness platform for cyclists and runners. Born from gaming, Zwift makes indoor training fun, social, and sweat drenching! Thousands of cyclists and runners train in imaginary cool worlds like Watopia and the Makuri Islands or real world destinations including NYC, London, Paris, France and more. Zwift is the title sponsor of the Tour de France Femmes avec Zwift and without this pioneering brand and todays guest, Kate Veronneau, the women's race would just be a stage at the end of the men's race.
CONNECT
Zwift on Instagram
Kate Veronneau on Instagram
Marni On The Move Instagram, TikTok, LinkedIn, or YouTube
Marni Salup on Instagram and Spotify
SUBSCRIBE TO OUR NEWSLETTER
Sign up for our weekly newsletter, The Download, for Marni on the Move updates, exclusive offers, invites to events, and exciting news!
OFFERS
AG1:Get 5 free travel packs and a year's supply of vitamin D with your first purchase at drinkag1.com/MarniOnTheMove
NIX Hydration Biosensors: Use our code MARNI20 for 20% off on a Nix Hydration Biosensor so you can create your own personalized hydration strategy at nixbiosensors.com
SUPPORT THE PODCAST
Leave us five stars on on Apple and Spotify.  Leave a review on Apple, it's easy, scroll through the episode list on your podcast app, click on five stars, click on leave a review, and share what you love about the conversations you're listening to. Tell your friends to what you love on social. Screenshot or share directly from our stories the episode you're listening to, tag us and the guests, and use our  Marni on the Move Giphy