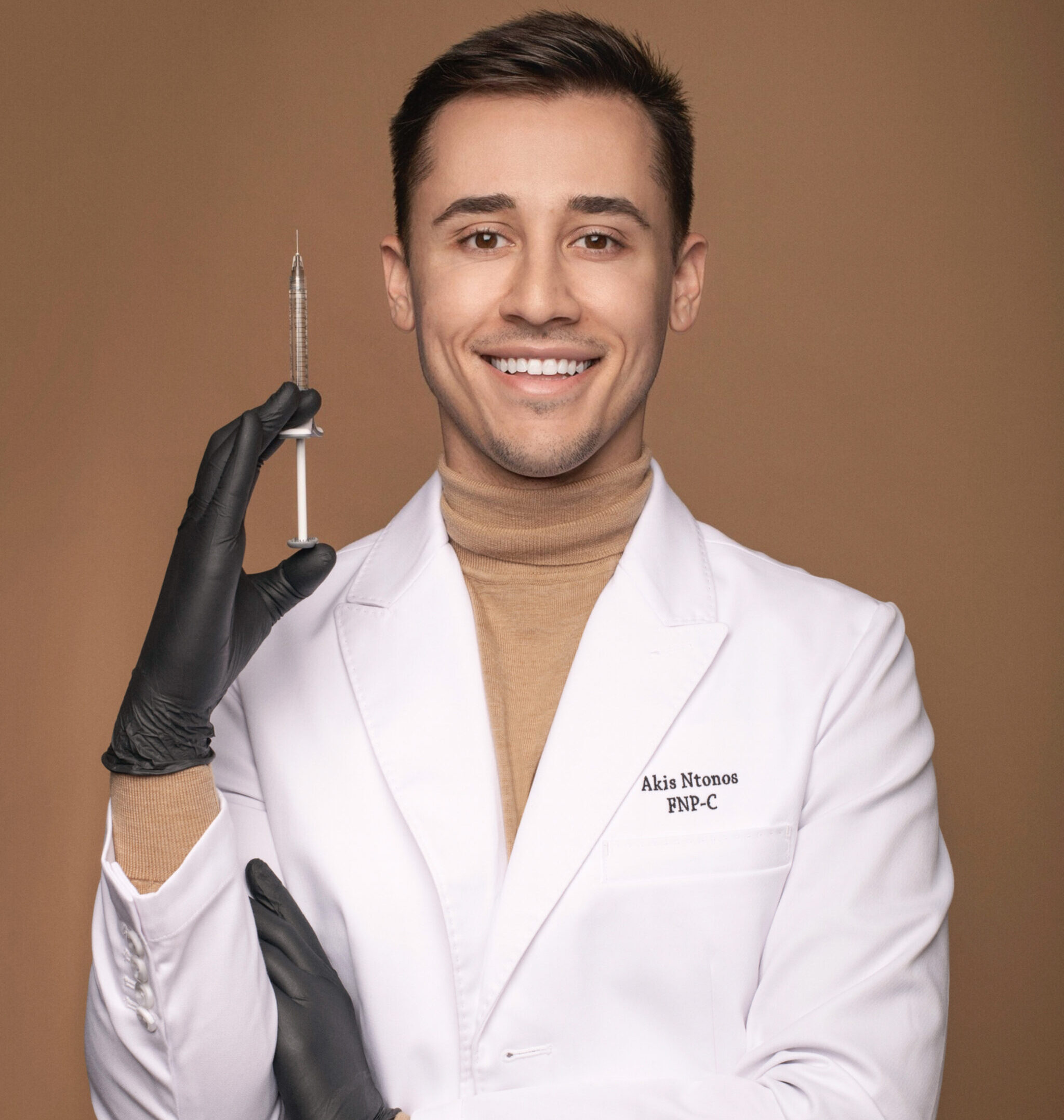 Akis Ntonos, Co-Founder of Aion Aesthetics is a highly sought-after master injector and facial architect, holistic health and wellness practitioner, and a former elite fencer.  Marni On The Move Podcast Host, Marni Salup syncs up with Akis to talk about how these three skillsets intersect and empower him for success; where it all began from his early days fencing to his new business and practice, Aion Aesthtics; and the exercise and wellness routines that currently keep him healthy and fit.
Akis is an award-winning master injector, board certified by American Academy of Aesthetic Medicine. He is both an artist and aesthetic dermatologist and takes pride in learning more about his craft to achieve the best results for his clients. His passion stems from his desire to make people feel the beauty that they already possess and help them optimize their look not change it.
During our conversation, we talk about his approach to enhancing the key characteristics of each patient, his customized multi-phase plan that is uniquely created through a range of his go to protocols peels, neurotoxins fillers, microneedling vitamin shots, hair restoration and more. We chat about best procedures and timing for athletes and fitness goers to engage in skin optimizing procedures and ones that are most effective. As an elite athlete, Akis has firsthand experience with the elements that need to be considered-metabolism, sweat, sun exposure, and recovery.  Get ready for a fun and eye-opening convo.
CONNECT
Aion Aesthetics On Instagram
Akis Ntonos On Instagram
Marni On The Move Instagram, Facebook, TikTok, LinkedIn, or YouTube
Marni Salup on Instagram and Spotify
OFFERS
InsideTracker: Get 20% percent off today at InsideTracker.com/marnionthemove
SUPPORT THE PODCAST
Leave us a review on Apple. It's easy, scroll through the episode list on your podcast app, click on five stars, click on leave a review, and share what you love about the conversations you're listening to. Tell your friends to what you love on social. Screenshot or share directly from our stories the episode you're listening to, tag us and the guests, and use our new Marni on the Move Giphy!
SUBSCRIBE TO OUR NEWSLETTER
Sign up for our weekly newsletter, The Download for Marni on the Move updates, exclusive offers, invites to events, and exciting news.