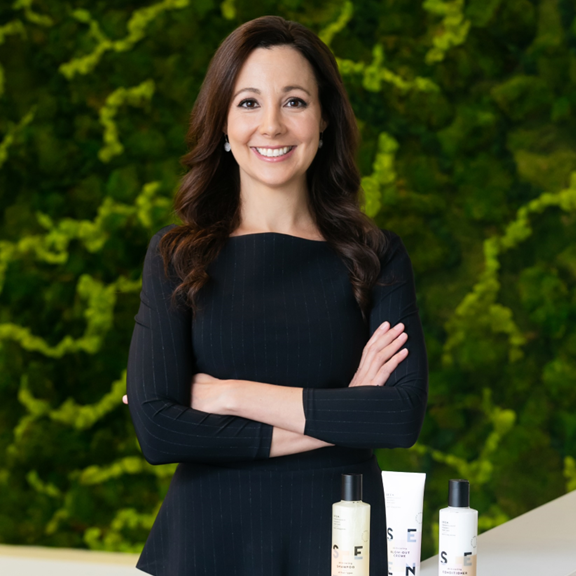 Dr. Iris Rubin, M.D. is the co-founder of SEEN®, a luxury skin-caring hair care line. She is also a board-certified dermatologist with laser and cosmetic fellowship training, a graduate of Harvard Medical School and former pediatric laser surgeon at Children's National Medical Center. SEEN was born from Iris' experience with breakouts as it related to her personal hair care use. Deciding that she (and her patients) shouldn't have to choose between great hair and great skin, she holistically re-thought the formulation process for hair care.
The product line is awesome! I had the opportunity to use the shampoo, conditioner, blow out cream and SEEN Magic Serum over the past few months and I am a big fan! I'm in the pool 3x a week and training 5-6 days a week and my hair get super dried out form all of the washing and drying, SEEN products felt super light and hydrating.
During our conversation, Iris  and I sync up about where the idea and inspiration for SEEN began, when she made the transition from daily practice of dermatology to building a brand. We chat about SEEN's current and growing product line, the signature and key ingredients.  Iris shares her personal and brand mission, and the exercise and wellness routines that fuel her for success.
SEEN's patented formulas are a game-changer for hair and skin care, clinically proven to be both non-comedogenic and non-irritating. SEEN's scientific advances stem from ingredient selection and from optimizing and balancing ingredients to minimize clogging of pores. The products use good-for-skin additives and many natural ingredients. They are color-safe and formulated without sulfates, silicones, phthalates, parabens, dyes, gluten, or animal testing.  For those with sensitive skin, a fragrance allergy or those who simply prefer no fragrance at all – fragrance free formulas are available for all products.
CONNECT
SEEN on Instagram, TikTok, and Facebook
Marni On The Move Instagram, Facebook, TikTok, LinkedIn, or YouTube
Marni Salup on Instagram and Spotify
OFFERS
InsideTracker: Get 20% percent off today at InsideTracker.com/marnionthemove
SUPPORT THE PODCAST
Leave us a review on Apple. It's easy, scroll through the episode list on your podcast app, click on five stars, click on leave a review, and share what you love about the conversations you're listening to. Tell your friends to what you love on social. Screenshot or share directly from our stories the episode you're listening to, tag us and the guests, and use our new Marni on the Move Giphy!
SUBSCRIBE TO OUR NEWSLETTER
Sign up for our weekly newsletter, The Download for Marni on the Move updates, exclusive offers, invites to events, and exciting news!