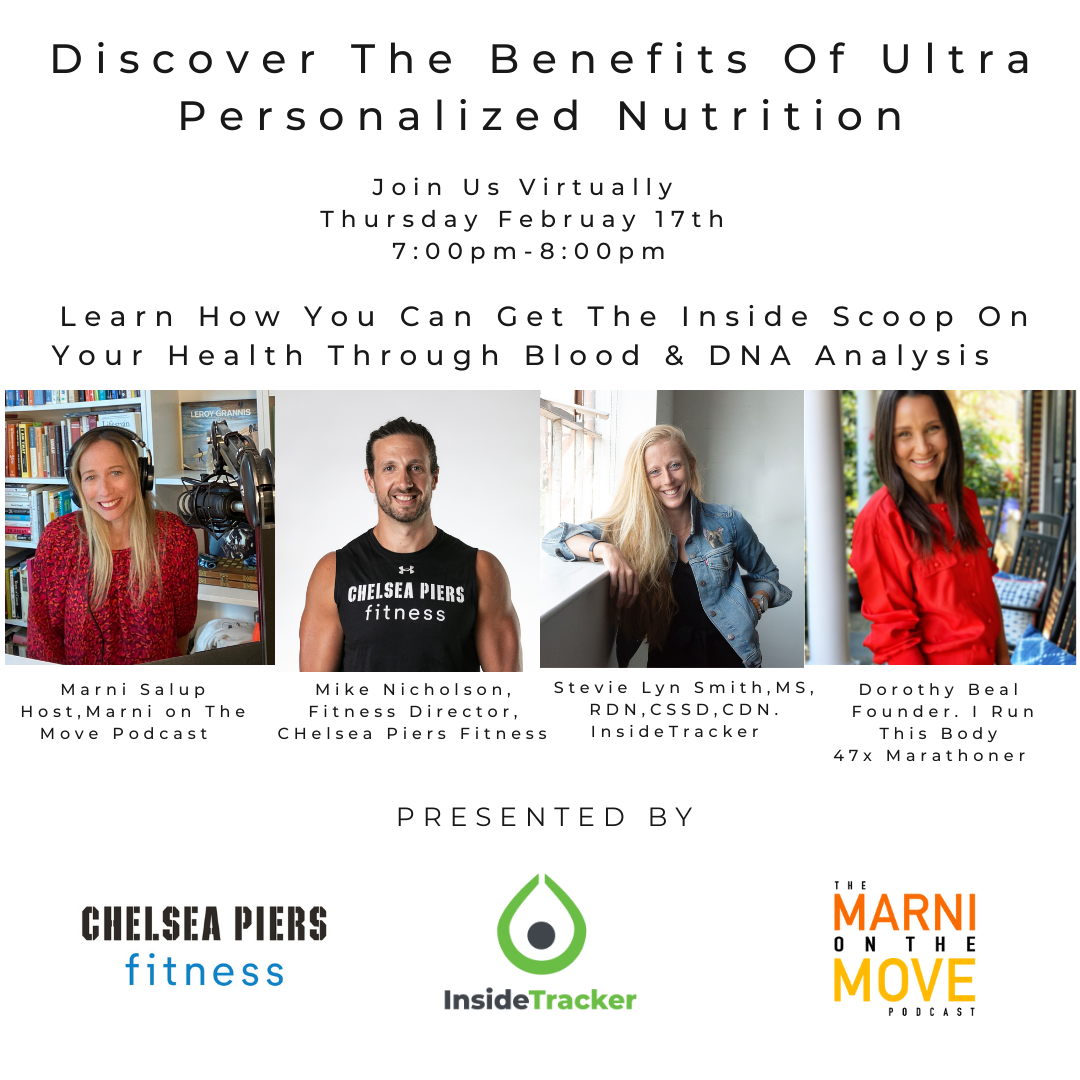 LIVE from Chelsea Piers Fitness in NYC, todays Marni On The Move podcast offers an in-depth look at why you should be ahead of the curve when it comes to your health, dialed in to what's happening in your blood and DNA, and how you can benefit from ultra- personalized nutrition and InsideTracker.  Host Marni Salup, sync's up with panelists Mike Nicholson, Fitness Director, Chelsea Piers Fitness; Stevie Lynn Smith, MS, RDN, CSSD, CDN and InsideTracker Consultant; and Dorothy Beal, 47x Marathoner and RunKeeper, Director of Content Strategy for Guided Workouts
We do a deep dive into:
The benefits of ultra-personalized nutrition and wellness and InsideTracker
Preventative healthcare and why it's important to know what is happening inside your body and why blood is the best way to analyze
Five blood biomarkers every athlete and fitness goer should know
How analyzing your DNA+ blood+ fitness tracker sleep and exercise data = A full personalized picture of health and wellness
Inner Age, what it is and why you need to discover yours.
CONNECT
InsideTracker on Instagram
Chelsea Piers Fitness on Instagram
Stevie Lyn Smith on Instagram
Dorothy Beal on Instagram
Mike Nicholson on Instagram
Marni On The Move Instagram, Facebook, TikTok, LinkedIn, or YouTube
Marni Salup on Instagram, Spotify, Zwift, Strava, Peloton
PARTNER OFFERS
Alkamind Supplements:  Get 15% off Alkamind Supplements, use our code MARNI15
InsideTracker: Get 20% percent off today at InsideTracker.com/marnionthemove
SUPPORT THE PODCAST
Leave us a review on Apple. It's easy, scroll through the episode list on your podcast app, click on five stars, click on leave a review, and share what you love about the conversations you're listening to. Tell your friends to what you love on social. Screenshot or share directly from our stories the episode you're listening to, tag us and the guests, and use our new Marni on the Move Giphy!
SUBSCRIBE TO OUR NEWSLETTER
Sign up for our weekly newsletter, The Download for Marni on the Move updates, exclusive offers, invites to events, and exciting news!