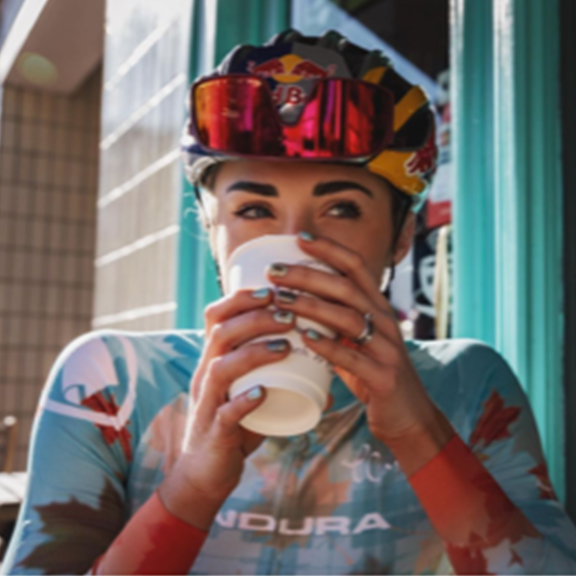 Lucy Charles-Barclay  is one of the fastest triathletes in the world!  The British sensation is the 2021 Ironman 70.3 World Champion, Ironman 70.3 European Champion, Collins Cup Winner on Team Europe, and 3X top Ironman World Championship Finisher.
On this episode, I sync up with Lucy to talk about what it takes to be such a legend in the sport of triathlon. She shares what it was like transitioning from elite swimming into the world of triathlon. Lucy dials me in to her typical training routines, and we do a deep dive into the extreme importance of strength conditioning for all aspects of sport. She also gives me the rundown on her nutrition and which foods are her go-to for fueling such a demanding event as the Ironman.
Lucy and I talk about her recent races in Slovakia, Utah and Malibu and how she is having fun mixing up her distances.  I get the scoop on Lucy's fave cycling and swimming gear and her very cool partnership with RedBull. Of course, she can't spend all of her time training, so I also asked Lucy about her most cherished downtime activities.
CONNECT
Lucy Charles-Barclay on Instagram, Facebook, YouTube
Marni On The Move Instagram, Facebook, TikTok, LinkedIn, or YouTube
Marni Salup on Instagram and Spotify
SUBSCRIBE
Sign up for our weekly newsletter, The Download for Marni on the Move updates, exclusive offers, invites to events, and exciting news!
RIDE WITH ME 
Meet me on Zwift, Strava, or Peloton
OFFERS
Take control of your health and wellness journey with InsideTracker, the ultra-personalized nutrition platform that analyzes your blood, DNA, and lifestyle to help you optimize your body from the inside out. Transform your body's data into meaningful insights and a customized action plan of the science-backed nutrition recommendations you need to optimize your health!  Get 25% percent off today at InsideTracker with our code CHEERSMARNI
Head over to our SHOP page for additional offers from Marni on the Move partners, sponsors, and guests
SUPPORT THE PODCAST
Leave us a review on Apple. It's easy, scroll through the episode list on your podcast app, click on five stars, click on leave a review, and share what you love about the conversations you're listening to.
Tell your friends to what you love on social. Screenshot or share directly from our stories the episode you're listening to, tag us and the guests, and use our new Marni on the Move Giphy!
SPECIAL THANKS
Emma Steiner for help with show notes, guest research, and social media.
Skye Menna for help with guest research and outreach, social media, and public relations