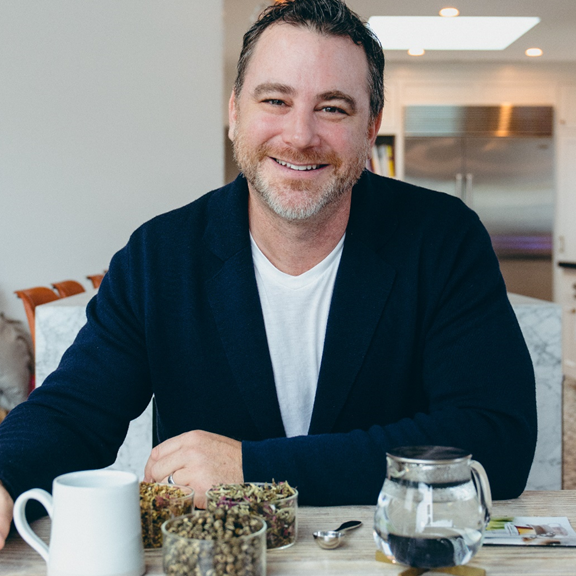 Master Tea Blender and the Founder of Art of Tea, Steve Schwartz's fascination with tea began in 1996 while studying preventative and holistic medicine at the Ayurvedic Institute in New Mexico. He learned that tea is so much more than a warm, comforting beverage—it's a gateway to better health, happiness, and productivity.
At Art of Tea, Steve applies his background in Ayurveda, initially cultivated during his time studying at the Ayurvedic Institute in New Mexico, to the creation of award-winning blends that showcase his passion for the alchemy of combining herbs and botanicals
Originally drawn to the field after his mom died of cancer when he was 19-years-old. Steve became curious about Eastern and preventative medicine as an alternative to the Western medicine that failed to save his mom. Following his tenure at the Ayurvedic Institute, Schwartz traveled the world to meet with farmers in Asia, India, Africa and the Middle East to broaden his knowledge of tea, and learn how climate and terroir impacts its expression and flavor.
On this episode, Steve shares his extensive knowledge of all things Ayurveda, tea and where the two intersect. We talk the various origins of black, white, green, and oolong teas, as well as the health and wellness benefits of each unique blend. Steve chats with me about his experiences traveling around the world in search of the highest quality leaves, and his rise to prominence as a the first master tea blender in the U.S.
Steve and I sync up about the inspiration behind Art of Tea, and the entrepreneurial mindset that powered his company to success. Steve shares invaluable advice on following your passion, and never being too afraid to take a risk. Steve also lets me in of the mindfulness and exercise routines that help him live a balanced, fulfilled, and focused life.
Steve's drive and passion for expanding people's knowledge of the history of tea has cultivated relationships with brands, acclaimed chefs and restaurants such as Google, Vera Wang, #Slack, The Peninsula Hotels, Huntington Gardens, Wolfgang Puck, Adam Perry Lang, Rustic Canyon Group, Craft Los Angeles and more.
Today, Art of Tea is an award-winning tea importer and wholesaler based in Los Angeles  that hand-blends and custom crafts the finest organic teas and botanicals. Since he founded the company in 2004, Steve has grown Art of Tea into a leading purveyor of organic and specialty teas, and he is a guiding voice within the industry. Art of Tea offers a broad spectrum of teas including its single-origin collection a wellness line featuring teas that combine herbs and botanical, Iced tea and ceremonial grade matcha.
CONNECT
Art of Tea on Instagram, Facebook
MarniOnTheMove Instagram, Facebook, or YouTube
Marni Salup on Instagram and Spotify
SUBSCRIBE
Sign up for our weekly newsletter, The Download for Marni on the Move updates, exclusive offers, invites to events, and exciting news!
TRAIN
Meet me on Zwift, Strava, or Peloton
OFFERS
Art of Tea is 0ffering MOTM listeners 15% off (excluding gift cards, Tea of the month, subscriptions, and any wholesale orders) through July 2021. Use this code at checkout MARNIONTHEMOVE15
Take control of your health and wellness journey with InsideTracker, the ultra-personalized nutrition platform that analyzes your blood, DNA, and lifestyle to help you optimize your body from the inside out. Transform your body's data into meaningful insights and a customized action plan of the science-backed nutrition recommendations you need to optimize your health!  Get twenty percent off today at InsideTracker with our code THANKYOUMOTM.
Mad Ritual CBD Balm has changed our sports and fitness recovery game in a big way!  Get ready to recover like a rebel with these awesome high quality CBD infused products!  Shop with our code marnionthemove for 15% off your purchase..
Head over to our SHOP page for additional offers from Marni on the Move partners, sponsors, and guests including Navitas Organics, Sun Potion, Amrita Health Foods and more.
SHARE
Leave us a review on Apple. It's easy, scroll through the episode list on your podcast app, click on five stars, click on leave a review, and share what you love about the conversations you're listening to.
Tell your friends to what you love on social. Screenshot or share directly from our stories the episode you're listening to, tag us and the guests, and use our new Marni on the Move Giphy!
SPECIAL THANKS
Emma Steiner for show notes, guest research, and social media.
Skye Menna for guest research and outreach, social media, and public relations