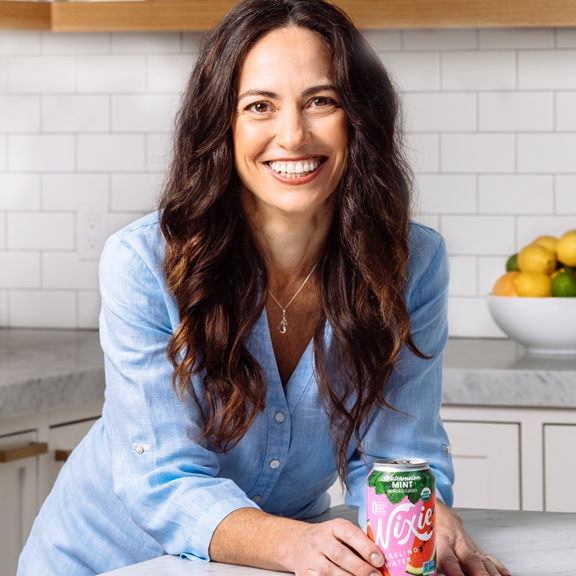 Nicole Bernard Dawes' inspiration for Nixie Sparkling Water was a lifetime in the making—literally. Nicole's passion for creating healthy solutions for snack time began when she was a child growing up in her mom's health food store. But, as Nicole got older, she realized there was a serious lack of healthy, satisfying, and delicious snacks in the nutrition sector. The solution? The launch of Nicole's very own healthy snack and beverage companies, Late July and Nixie Sparkling Water.
This pioneering business owner is dedicated to transforming the food and beverage industry by creating delicious, organic options. As Founder and CEO of Nixie Sparkling Water, Dawes draws upon her lifetime of experience in the industry to offer a superior-tasting and certified USDA organic, non-GMO sparkling water that doesn't contain synthetic solvents, carriers or artificial preservatives. Since Nixie first hit stores in 2019, Dawes has led the Bay Area-based brand's growth into 4,000 retailers nationwide. 
On this episode, Nicole shares her journey as an entrepreneur in the food and beverage space. She talks growing up with both of her parents working in the food industry, and how that experience instilled in her a lifelong love of quality snacks. We chat about the inspiration behind her first company, Late July, and her motivation to launch her newest endeavor, Nixie Sparkling Water, a line of refreshing, flavorful sparkling water.
Nicole and I sync up about the challenges of promoting Nixie Sparkling Water during the COVID-19 pandemic, and her commitment to supporting retailers, and her empowering company culture.
Of course, I touch base with Nicole about how she balances entrepreneurship with family life, and the wellness routines that keep her motivated and ready to invent the next best thing in nutritious snacking.
CONNECT
Nixie Sparkling Water on Instagram
MarniOnTheMove Instagram, Facebook, or YouTube
Marni Salup on Instagram and Spotify
SUBSCRIBE
Sign up for our weekly newsletter, The Download for Marni on the Move updates, exclusive offers, invites to events, and exciting news!
TRAIN
Meet me on Zwift, Strava, or Peloton
OFFERS
Take control of your health and wellness journey with InsideTracker, the ultra-personalized nutrition platform that analyzes your blood, DNA, and lifestyle to help you optimize your body from the inside out. Transform your body's data into meaningful insights and a customized action plan of the science-backed nutrition recommendations you need to optimize your health!  Get twenty percent off today at InsideTracker with our code THANKYOUMOTM.
Mad Ritual CBD Balm has changed our sports and fitness recovery game in a big way!  Get ready to recover like a rebel with these awesome high quality CBD infused products!  Shop with our code marnionthemove for 15% off your purchase..
Head over to our SHOP page for additional offers from Marni on the Move partners, sponsors, and guests including Navitas Organics, Sun Potion, Amrita Health Foods and more.
SHARE
Leave us a review on Apple. It's easy, scroll through the episode list on your podcast app, click on five stars, click on leave a review, and share what you love about the conversations you're listening to.
Tell your friends to what you love on social. Screenshot or share directly from our stories the episode you're listening to, tag us and the guests, and use our new Marni on the Move Giphy!
SPECIAL THANKS
Emma Steiner for show notes, guest research, and social media.
Skye Menna for guest research and outreach, social media, and public relations