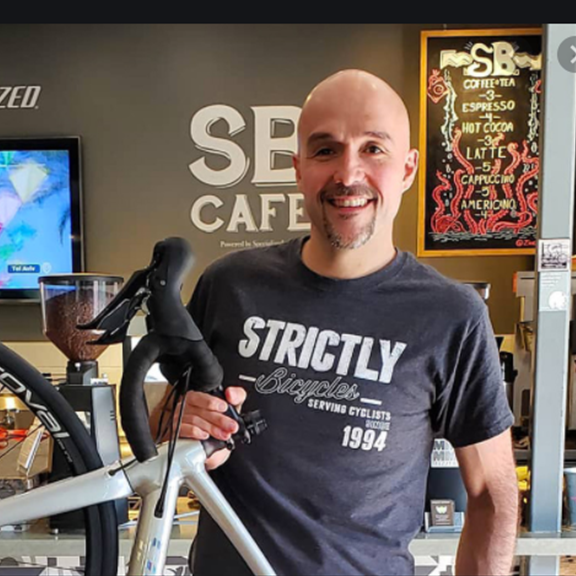 When Strictly Bicycles founder, Nelson Gutierrez opened his store in 1994, he dreamed of not only sharing his sport with the world but creating a community of passionate cyclists looking for a welcoming place to socialize, refuel, and purchase the highest quality gear to set them up for success. And that's exactly what he did—just ask any cyclist where their go-to stop is on a long ride outside NYC. The answer? Strictly Bicycles is the place to be.
On today's episode, Nelson shares how he fell in love with cycling as a way to expand his horizons and explore new places while growing up in the inner city. He talks about working at a bike shop at the age of 19, and how his managerial position there fueled his entrepreneurial drive and led him to open his own bike shop, Strictly Bicycles.
We discuss how Nelson pivoted his business during the COVID-19 pandemic toward a more virtual experience, and how he kept his customers and employees safe, while remaining open and continuing to produce the Strictly Bicycles experience outside and socially-distanced.
Nelson also offers his sage cycling wisdom, tips and advice on purchasing and maintaining bikes for both first-time and leveling up for seasoned cyclists, as well as how to continue training indoors.  I also sync up with Nelson on how cycling fuels him for entrepreneurship and vice versa. Hint—he's all about having passion.
CONNECT
Strictly Bicycles on Instagram, Facebook or YouTube
MarniOnTheMove Instagram, Facebook, or LinkedIn
Marni Salup on Instagram and Spotify
SUBSCRIBE
Sign up for our weekly newsletter, The Download for Marni on the Move updates, exclusive offers, invites to events, and exciting news!
TRAIN
Meet me on Zwift, Strava, or Peloton
OFFERS
Take control of your health and wellness journey with InsideTracker, the ultra-personalized nutrition platform that analyzes your blood, DNA, and lifestyle to help you optimize your body from the inside out. Transform your body's data into meaningful insights and a customized action plan of the science-backed nutrition recommendations you need to optimize your health!  Get twenty percent off today at InsideTracker with our code THANKYOUMOTM.
Mad Ritual CBD Balm has changed our sports and fitness recovery game in a big way!  Get ready to recover like a rebel with these awesome high quality CBD infused products!  Shop with our code marnionthemove for 15% off your purchase..
Head over to our SHOP page for additional offers from Marni on the Move partners, sponsors, and guests including Navitas Organics, Sun Potion, Amrita Health Foods and more.
SHARE
Leave us a review on Apple. It's easy, scroll through the episode list on your podcast app, click on five stars, click on leave a review, and share what you love about the conversations you're listening to.
Tell your friends to what you love on social. Screenshot or share directly from our stories the episode you're listening to, tag us and the guests, and use our new Marni on the Move Giphy!
Special Thanks
Emma Steiner for show notes, guest research, and social media.
Skye Menna for guest research and outreach, social media, and public relations.