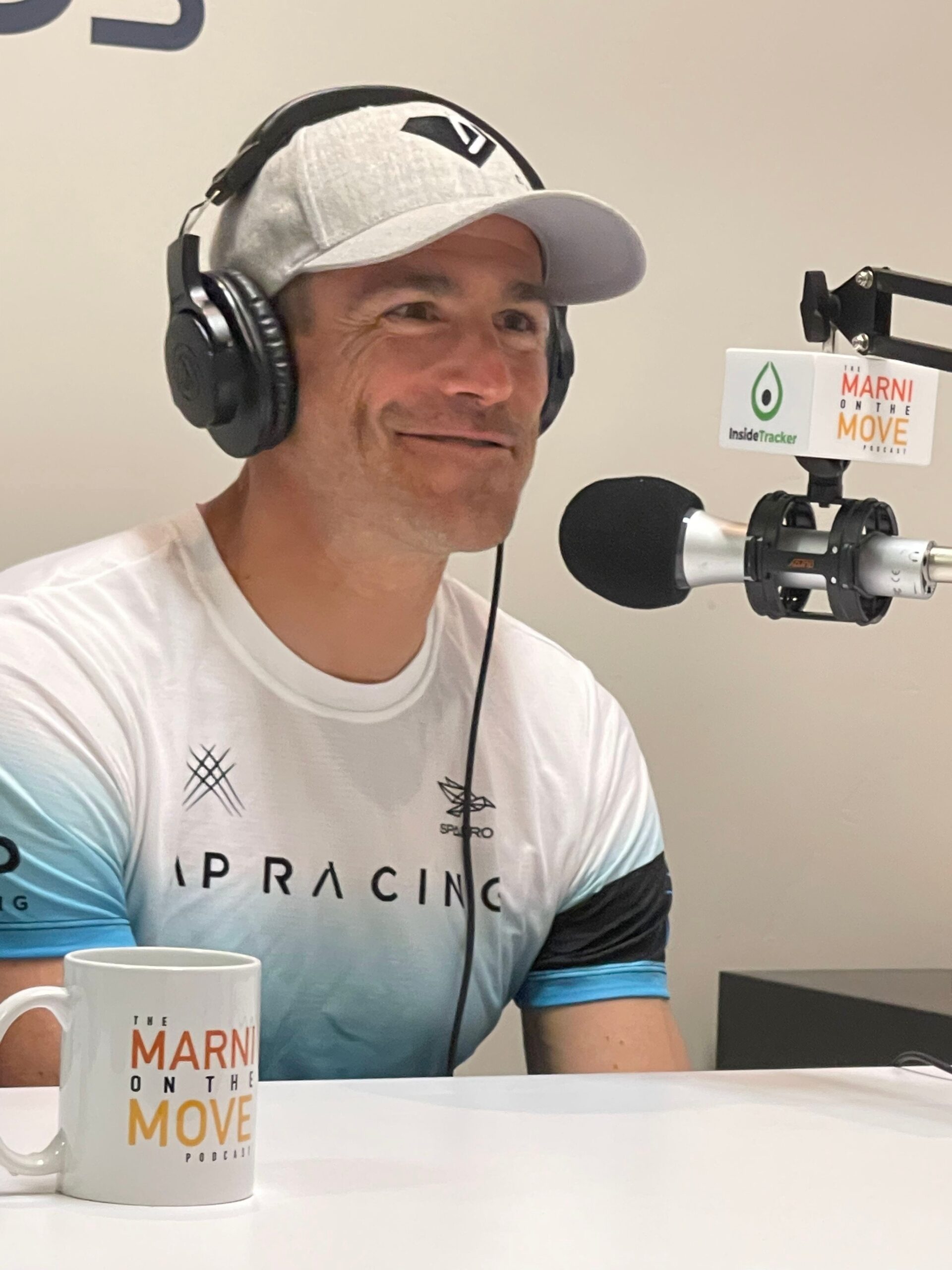 World famous American Professional Triathlete, Triathlon Coach and Co-Founder of AP Racing, Andy Potts, LIVE from the OOFOS Recovery Lounge Pop Up in St. George Utah.  Andy Potts is a legend on the global triathlon racing scene, where he has been competing for two decades in 200+ races. He is an Olympic Triathlete and competed in the 2004 Olympic Games;  30x IM 70.3 Champ and the 2007 70.3 World Champ; 8x IRONMAN Champ, he got 4th Place IRONMAN World Championships  in 2014 and 2015; and he has won 58 first place finishes overall.  He is an incredible athlete, wealth of triathlon knowledge, and over all a super cool person. PS. He came in 16th at World Chamionships 2022  St. George with a time of 8:21:25
Andy and I caught up a few days before IRONMAN World Championships in St. George to talk about when he got his start in triathlon, the early days, and how far he has come as a pro triathlete, still competing at 45. He shares why he started coaching and the mission behind launching AP Racing with his co-founder, Daniel Brienza, which now has over 300 athletes.
Andy offers his advice and expertise on  the importance of positive Self Talk, how to turn a bad day into a good day; Race recon, prep, and when to arrive at your race destination; The value of dialing in to your watts, His current raceday nutrition, infinite,; How he and his athletes are using and benefiting from  InsideTracker. We also talk gear and his super cool bike from Diamond Bikes and the Pinnacle wetsuit that he personally designed, based on years of swimming and triathlon experience. Andy offers great advice on how to swim in cold water, overcome panic attacks, and his own personal open water swim challenges, and he sheds light on the parallel of Triathlon and life.
CONNECT
Andy Potts Instagram
Marni On The Move Instagram, Facebook, TikTok, LinkedIn, or YouTube
Marni Salup on Instagram and Spotify
OFFERS
InsideTracker: Get 20% percent off today at InsideTracker.com/marnionthemove
AG1 by Athletic Greens: Get 5 free travel packs and a year's supply of vitamin D with your first purchase at AthleticGreens.com/MarniOnTheMove
SUPPORT THE PODCAST
Leave us a review on Apple. It's easy, scroll through the episode list on your podcast app, click on five stars, click on leave a review, and share what you love about the conversations you're listening to. Tell your friends to what you love on social. Screenshot or share directly from our stories the episode you're listening to, tag us and the guests, and use our new Marni on the Move Giphy!
SUBSCRIBE TO OUR NEWSLETTER
Sign up for our weekly newsletter, The Download for Marni on the Move updates, exclusive offers, invites to events, and exciting news!